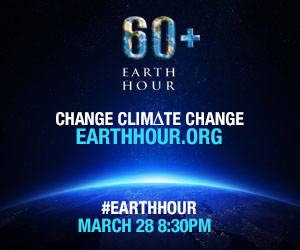 This Saturday, March 28th the world will go lights out for the 9th annual Earth Hour. Earth Hour challenges everyone across the world to shut off their lights for just one hour at 8:30 pm local time. This black out shows support for sustainable solutions to climate change and other environmental problems – whether of local, national or worldwide importance.
Just think, this simple act can connect you to a network of people in 7,000 cities across 154 countries around the world. Even some of the world's greatest attractions go lights out for Earth Hour – over 3,300 to be exact.  Some famous landmarks that have gone lights out for sustainability include the Las Vegas Strip, Times Square, the Sydney Opera House, Buckingham Palace, and the Eiffel Tower. Locally, many Virginia Beach attractions will also go dark this Saturday including the city seal at Mount Trashmore, the Virginia Aquarium, and Westin Tower to name a few.
While Earth Hour takes just one hour to complete, participation is meant to be a symbolic commitment, from both individuals and organizations, to go green and reduce their impact on the Earth. And when it comes to easy, eco-friendly advice – askHRgreen.org has you covered from your home, to your office and from your yard to your children's school.
Join askHRgreen.org in dedicating just one hour of your Saturday night to this worthwhile blackout. Turn out the lights and have some fun – try a romantic candle lit dinner for two, s'mores with your neighbors, stargazing from your lawn or just kick back and read a book while you make your quiet commitment to a cleaner, greener world.
Earth Hour is an initiative of the WWF (World Wildlife Fund), one of the world's largest conservation organizations.