Grants
Cigarette Waste Receptacle Grant
While supplies last, askHRgreen.org is offering FREE cigarette waste receptacles through a regional grant program. If your Hampton Roads retail store, restaurant, or office is committed to preventing cigarette litter, consider applying to receive a free receptacle. The grant program is part of the #NoButtsAboutIt cigarette litter prevention initiative taking place across Hampton Roads.
Why install a cigarette waste receptacle?
Cigarette butts are the most littered item in America and across the world. When smokers leave cigarette butts on the ground, it creates an unsightly mess that damages your business's curb appeal and contributes to community litter and water pollution. Furthermore, littered cigarette butts can also cause damage to property and landscaping by starting accidental fires.
Forty-one percent of smokers have reported they lack access to receptacles at their place of employment. Adding cigarette waste receptacles where smokers congregate or at transition points (where customers would extinguish their cigarettes before entering the building) can meaningfully reduce cigarette litter and encourage smokers to do the right thing.
Clean communities aren't just good for the environment, they're good for business! Join the #NoButtsAboutIt cigarette litter prevention initiative by applying for a free cigarette waste receptacle and/or use our outreach toolkit below to show your commitment to cleaner, greener communities.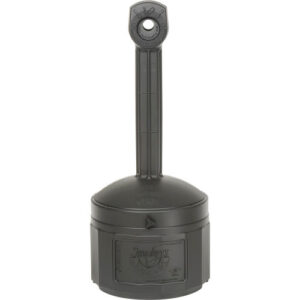 How to Apply
Businesses can apply online or by completing the PDF application. Applications will be accepted on a rolling basis as long as cigarette waste receptacles are available. Supplies are limited, so apply today!
This grant is open to all businesses in the Hampton Roads region with the ability to install, monitor, and maintain a cigarette waste receptacle at their establishment. Receptacles may be used for customers and/or staff. Businesses will assume the following responsibilities:
Install the cigarette waste receptacle within 14 days.
Anchor the receptacle in place or weigh it down with sand.
Monitor the receptacle to ensure the lid stays secure.
Empty the receptacle on a regular basis to prevent the receptacle from becoming overfull.
Apply online using the form below or by submitting the PDF application to hrgreen@hrpdcva.gov or mail to:
Hampton Roads Planning District Commission
Attention: askHRgreen.org Cigarette Waste Grant
723 Woodlake Drive
Chesapeake, Virginia 23320
Cigarette Waste Receptacle Application
We would love to see your #NoButtsAboutIt work in action! Let us know how the receptacle has impacted your business and staff by submitting feedback to hrgreen@hrpdcva.gov. Photos are encouraged. You can also show your support for a cleaner, greener Hampton Roads by posting about your efforts on social media. Be sure to use #NoButtsAboutIt and tag @askHRgreen in your post so we can follow along.