For a limited time, askHRgreen.org is offering free pet waste stations through a new grant. If your Hampton Roads neighborhood / HOA / community association is ready to make scooping the poop a priority, then you're invited to apply. Pet waste stations encourage residents to pick up after their pets by making it easy and convenient to do so.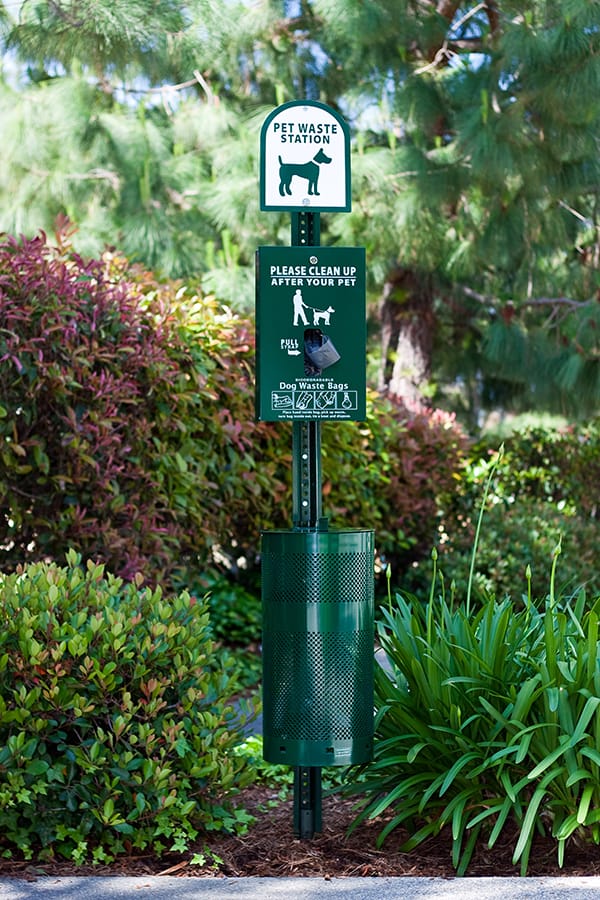 WHY A PET WASTE STATION IS SO IMPORTANT
Scooping the poop is not only important for a clean neighborhood, it's important for our local waterways. When pet waste is not picked up, it becomes a major source of pollution in our water. Rainwater carries nitrogen and bacteria from pet waste into our storm drains and directly into our rivers, lakes, and streams. This excess nitrogen and bacteria transform the water into a cloudy, green, foul-smelling mess that lacks oxygen and becomes an aquatic dead zone. The same pollution is responsible for beach closures, fishing restrictions and warnings on eating local seafood. Installing a pet waste station is one easy way to combat water pollution in your community.
HOW TO APPLY
Apply for the pet waste application grant online. Applications will be accepted as long as pet waste stations are in stock. Supplies are limited, so apply today!
This grant is open to any neighborhood, community group, or property management company with the ability to install and maintain the pet waste station. We give you the station, you keep it up!
All neighborhoods, community groups and property managers in Hampton Roads with the ability to do the following tasks are encouraged to apply for a free pet waste station.
Install the pet waste station within 45 days of receipt.
Use some method of advertisement to promote the installation, purpose and use of the pet waste station to the residents of the neighborhood.
Monitor the pet waste station regularly for the following items:

Garbage can is emptied when full
Pet waste bags are stocked and available for use
Garbage can liners are stocked and available for use
Pet waste bag replacements are purchased in a timely manner (First 400 bags included with grant. Refills must be purchased by the applicant).
Garbage can liners are purchased in a timely manner (First 25 can liners included with grant. Refills must be purchased by the applicant).
To apply via e-mail, please review and fill out the pet waste station grant application and submit to hrgreen@hrpdcva.gov. To apply via mail, submit your application to:
Hampton Roads Planning District Commission
Attention: askHRgreen.org Pet Waste Station Grant
723 Woodlake Drive
Chesapeake, Virginia 23320
Fax: (757) 523-4881
We would love to hear how your pet waste station impacted your community! Email us at hrgreen@hrpdcva.gov to share your neighborhood's experience with the pet waste station grant. Photos are encouraged.
A portion of the pet waste stations were funded by the Chesapeake Restoration Fund Grant. You can support programs like this in Virginia by purchasing a Friend of the Chesapeake license plate.