PROGRAMS & ORGANIZATIONS
Storm Drain Medallion
This program is a great opportunity to learn about our waterways and the easy steps everyone can take to protect them.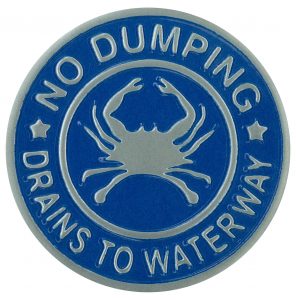 There are thousands of storm drains across Hampton Roads that all lead to our waterways, and we need your help in letting everyone know that only rain belongs down the storm drain. This program is open to all ages – not just youth! You can help us mark the storm drains near you. The round blue discs, or medallions, that you will attach to the tops of storm drains will help remind and educate other citizens about the importance of preventing pollution from entering our sensitive waterways and, above all, that storm drains are NOT to be used for dumping.
We'll provide the medallions and adhesive; simply apply through the form below. Or you can download the Storm Drain Medallion Program Application Form to fill out and send back to us. If you're a teacher, you can download the lesson plan and PowerPoint presentation.
There is no deadline for applications; they are accepted year 'round as long as funding is available. Applications submitted by the 15th of each month will be responded to by the 15th of the following month.
Storm Drain Medallion Application