Written according to Virginia Standards of Learning (SOL) guidelines by a team of experts who work in the region's public works and public utilities departments, the askHRgreen.org Green Learning Guides connect students to their environment by combining educational information with fun age-appropriate activities such as colorful maps, engaging infographics, and puzzles. Corresponding Teacher's Guides have also been created to highlight fun, interactive class activities to further reinforce important environmental concepts and take the topics "beyond the book." Topics covered include the water cycle, watershed education, pollution prevention, water conservation, wildlife protection, waste reduction, recycling, and prevention of sanitary sewer overflows.
Available Green Learning Guides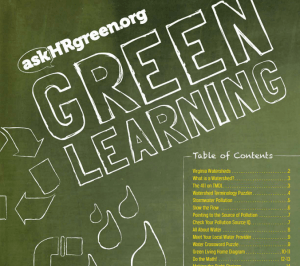 Middle School Green Learning Guide (2012) – All about our most precious natural resource, water. Investigate local water quality issues, sources of pollution in the Chesapeake Bay, the public water system, and all the little ways that water is important to life in the 21st century. Written to meet sixth-grade SOLs but filled with fun for all middle and high school students. Download the Sixth-Grade Teacher's Guide for discussion questions that will get your students thinking, interactive online tools, and fun experiments that bring science to life.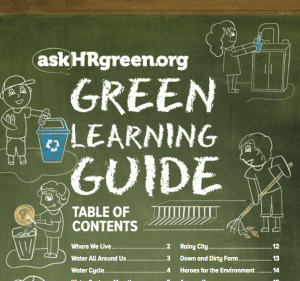 Elementary School Green Learning Guide (2018) – Travel through the different landscapes of Hampton Roads to discover the importance of our region's natural resources and how we can all make a difference in protecting them. Written to meet third-grade SOLs but plenty of fun for all elementary-aged students. Download the Third-Grade Teacher's Guide for more engaging resources, hands-on activities, and fun science experiments.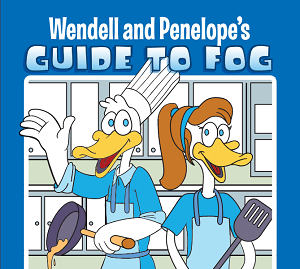 Wendell & Penelope's Guide to FOG (2020) – Wendell and Penelope Duck teach kids to keep fats, oil, and grease out of our sinks, toilets, septic tanks, and sewer systems. They will learn why FOG shouldn't go down the drain, and how to stop them in this fun coloring and activity book.
Your opinion matters!
Green Learning Guide Feedback
Please help us improve the Green Learning guide by filling out this form!