Have you seen it? The inaugural issue of Coastal Virginia's Green Magazine hit the shelves earlier this month and we're thrilled to share it with you. Green Magazine is the result of an exciting new partnership between Coastal Virginia Magazine and askHRgreen.org. Last year we asked the magazine staff about working together to develop a special lifestyle supplement filled with stories covering all sorts of ways to live a more Earth-friendly lifestyle. They said yes and together, working with all of the askHRgreen.org education committees, they developed this special edition.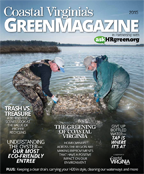 Green Magazine features a behind-the-scenes look at a recycling audit that demonstrates the importance of trash vs. treasure, an exploration of the quality of our local waterways and what's being done to clean them up, a feature on homeowners across the region greening their homes in big and small ways, and the importance and appeal of tap water. You'll also find a food feature on our area's beloved oyster, shedding light on why consuming local food straight from our waterways benefits more than just our taste buds.
We encourage you to share Green Magazine with family, friends, coworkers, and neighbors. It is our hope that the stories in this beautiful magazine will educate and inspire residents and businesses alike to do all we can to make our coastal lifestyle a littler easier on the environment. Enjoy!