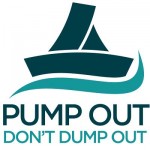 Wastewater comes from all different sources:  sinks, toilets, showers, dishwashers, the list goes on and on.  When we are at home or at work, all of this dirty water we create throughout the day is sent down a drain, pumped through pipes, and ends up at a wastewater treatment plant where it is cleaned and then discharged into local waterways.  You probably just flush it and forget it.  It's easy to do until you send something down the drain other than the 3 Ps (Pee, Poo, and [Toilet] Paper) that causes a clog and a sewer backup.  Coming face to face with sewage is normally not a pleasant experience.  I know from my own personal experience.  We all want to keep it in the pipes.
However, not everyone can flush and forget.  If you have a boat with a sanitary holding tank, you know that proper sewage disposal is not something that just magically happens.  Nope, there is no sewage fairy that waves a magic wand and takes care of these things.  When that tank fills up it's got to go somewhere, and someone's got to do it.
And that someone is us!  HRSD offers a year-round boater Pump Out Program and we'll pump your sanitary holding tank for free.  It's part of our Boater Education Program and one way we promote the proper disposal of wastewater from sanitary holding tanks and prevent dumping into waterways.  HRSD was created 75 years ago to prevent sewage pollution in Hampton Roads, and we want to make it easy for boaters to do the right thing and help protect area waterways.  Our network of over 500 miles of sewer pipelines might not reach your boat – but our Marina Interns will!
By remembering to Pump Out, Don't Dump Out, you'll help us ensure future generations inherit clean waterways and are able to keep them clean.  Find out more about our Boater Education and Pump Out Program and schedule your pump out at https://www.hrsd.com/boater-ed.