The City of Portsmouth's Recycling Program has been named Outstanding Government Agency by the Virginia Recycling Association for 2015! This award recognizes Portsmouth's Recycling Program as the BEST among all Federal, State, and Local Government agencies, and institutions within the Commonwealth of Virginia.
Each year the Virginia Recycling Association (VRA) recognizes the best waste reduction and recycling programs in the state at an annual awards ceremony. Nominations are sought from the public and private sectors, business, industry, schools, government and non-profit agencies, civic or volunteer organizations, and individuals.
The following are the selection criteria:
Integrated a waste reduction program (including reduction, recycling, reuse composting, etc.)
Ongoing employee education program with incentives for waste reduction.
Policy that demonstrates commitment to waste reduction, reuse and recycling.
Broad range of material managed or recycled, with records kept of quantities.
Waste-conscious procurement policies for materials and supplies.
Sharing of information and technical assistance with peers.
Innovative and creative components to program.
Program must have been in operation for at least one year.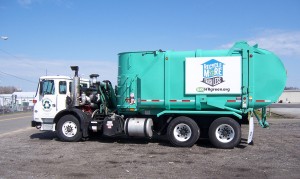 The Virginia Recycling Association presented the Outstanding Government Agency award to the City of Portsmouth on May 6th during their annual conference at the Sheraton- Virginia Beach Oceanfront, 3501 Atlantic Avenue.
Guest blog submitted by Donna Corbus, City of Portsmouth Recycling Manager and Executive Director of Keep Portsmouth Beautiful.