If a stranger were to pass by my house, they may think my yard is unkempt. The blanket flowers and coreopsis are sprawling and leggy. The seedheads of cone flowers are not trimmed back. The butterfly bush grows just a bit unevenly. Look closely and you may even see the remnants of leaves from LAST fall in the flowerbed. But what you wouldn't know by just looking at my yard is that it's messy on purpose.
I saw a great article recently from the Habitat Network promoting messy gardens. The Habitat Network allows people across the country to connect with tools and resources to help improve the wildlife value of residential landscapes. And how oh-so-important that is now that homeowner associations rule the land. It isn't that a "working" yard suffers from a lack of care or maintenance. It's quite the opposite, in fact. Those who let their yard complement their local environment are caring for all the residents of the neighborhood – big and small. Nature is a little messy — and our yards should be too!
So why should you get messy?
Native plants protect natural resources because they thrive in this region without needing extra water, fertilizer or chemical pesticide.
Seedheads left on dried flowers are an important food source for song birds and migratory birds.
Dead limbs and fallen leaves provide habit for wildlife including overwintering insects like ladybugs, butterflies and bees.
Gardens can be "alive" all year if we embrace lazy gardening.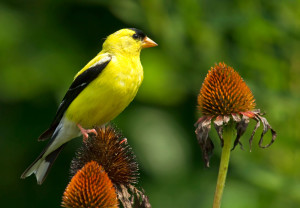 I've seen big changes in my yard since we went messy. We have a family of gold finches that started frequenting our yard this spring. The rabbits love the dense cover of our shrubs and raised their babies in our yard. We've seen hummingbirds, Monarch caterpillars, swallow-tail butterflies and even a hawk that likes to perch on our fence at midday. All this smack-dab in the middle of suburban Hampton Roads. So let your garden get messy and see what wildlife will show up for a visit.
Want to get messy? Here's what to do:
Plant native plants that invite wildlife and insects to your yard.
Don't remove spent flowers or berries from plants visited by wildlife.
Mulch mow your grass and rake fallen leaves into the mulched areas of your yard.
Ditch chemical fertilizers and pesticides.
Reserve your yard maintenance for early spring when temperatures have reached at least 50 degrees for several days. This will protect any wildlife that has called your yard home during winter.
Everything you need to know for creating a "working" habitat in your yard is available from the Habitat Network.