Pool ownership can be great.  You can swim anytime you want, and entertain the kids without leaving home.  All you have to do is step out into your yard to enjoy it.
Of course, all that beautiful water occasionally needs to be drained.  What do you do with the stuff?  Are you allowed to drain it into a stormwater system?
Pool water can be drained to the drainage system, but only when it is dechlorinated.  After all, you don't want to kill our crabs, fish, and other aquatic life by releasing chlorine into the environment.  State law prohibits discharging chlorinated pool water.
Here is how to drain your pool responsibly and legally:
Dechlorinate pool water by letting it sit for several days without adding more chlorine.
Your water's pH level should be between 6.5 and 8.5 before draining.
If you are in a hurry to drain your pool, you can add sodium thiosulphate to break down the chlorine faster.  Please remember that it will still take time for the chlorine to break down…DO NOT discharge pool water immediately after adding this chemical.
Dechlorination times depend on the weather and the volume of water being discharged.  If you have a pool, you have a test kit.  Use it before discharging water.
When in doubt, let the water sit longer!
Drain your pool water over grass.  This will help some of the water infiltrate into the soil.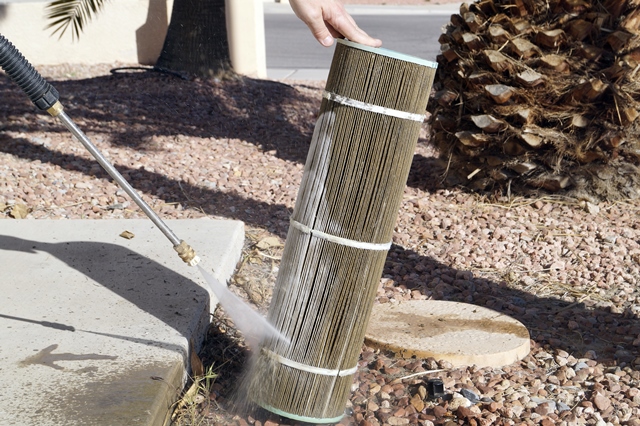 Now let's talk backwash, as in that water produced when you backwash your filters.  This water should not be drained into the storm drainage system.  Backwash water has a heavy concentration of chlorine and other pool chemicals.  It also contains sediment and small debris that had been lodged in the filter.  Run filter water through the grass to a landscaping area.  If need be, create an infiltration pit so backwash is absorbed into the ground.
With a little bit of time and planning, you can maintain your pool in an environmentally, legal manner.  Enjoy your summer, and enjoy that pool!