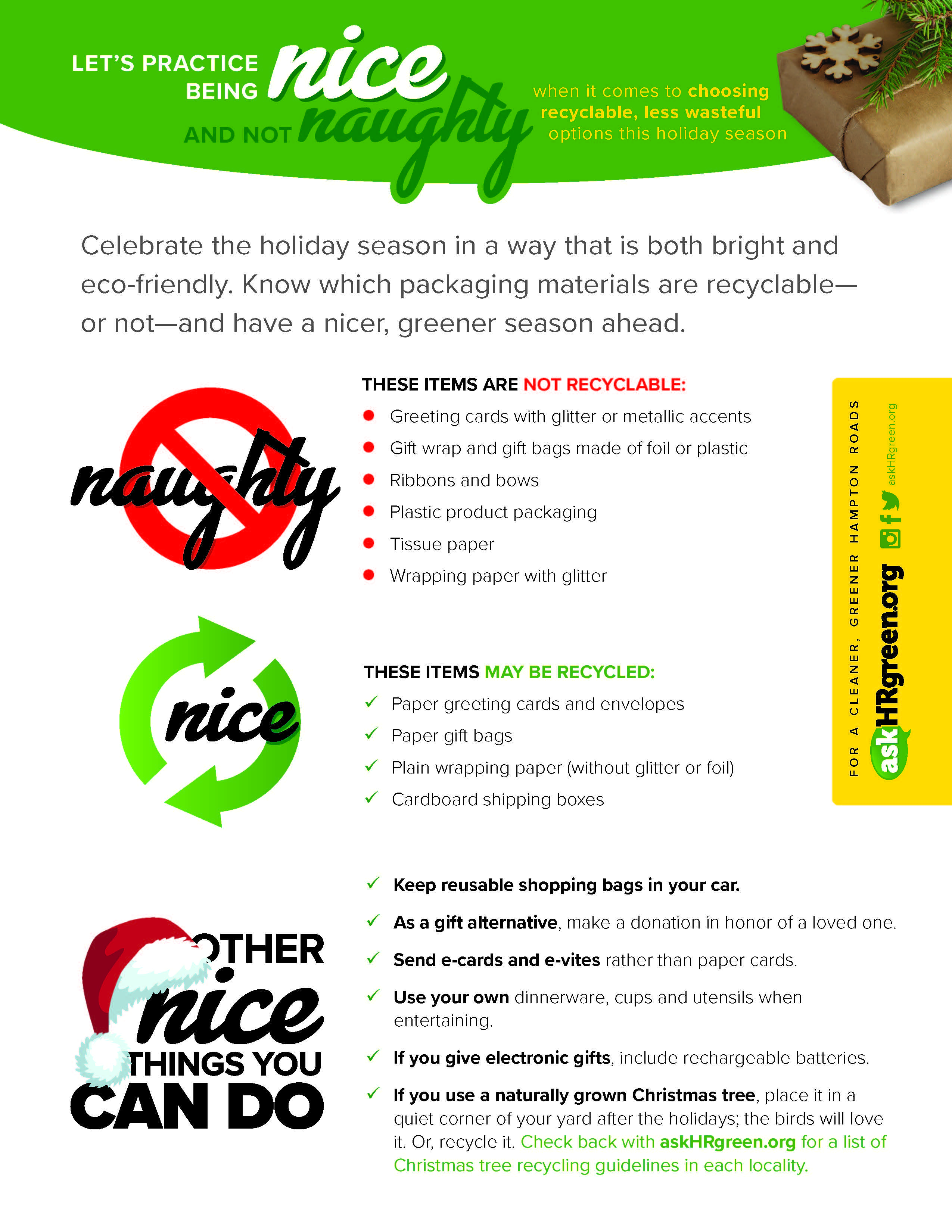 A study from Stanford University revealed that Americans throw away 25% more trash during the Thanksgiving to New Year's holiday period than any other time of year. This extra waste amounts to 25 million tons of garbage, or about 1 million extra tons per week. Every bit we do, from shopping with reusable totes to greener gift wrapping, contributes to a healthy Hampton Roads community.
Do we really need to buy rolls and rolls of wrapping paper every year? Get creative and make your own using fabric, maps, your child's artwork, gently-used scarves, thin tea towels, or reused paper. Top it with a pinecone, twine, or a sprig of fresh rosemary for a beautiful (and fragrant) finishing touch! Placing gifts in reusable containers, such as baskets, canisters, pretty boxes, and tins, is another fun way to green up your gift-giving this year.
To celebrate a season that is both bright and eco-friendly, use this holiday wrapping checklist to know which packaging materials are recyclable, or not, and have a nicer green holiday ahead!
NAUGHTY
The following holiday items are NOT recyclable:
Greeting cards with glitter or metallic accents
Gift wrap and gift bags made of foil or plastic
Ribbons and bows
Plastic product packaging
Tissue paper

NICE
These items CAN be recycled:
Paper greeting cards and envelopes
Paper gift bags
Plain wrapping paper (without glitter or foil)
Cardboard shipping boxes

Good to do, always:
Keep reusable shopping bags in your car.
As a gift alternative, make a donation in honor of a loved one.
Send e-cards and e-vites rather than paper cards.
Avoid paper/plastic by using your own dinnerware, cups, and utensils when entertaining.
If you give electronic gifts, include rechargeable batteries.
If you decorate a naturally grown Christmas tree, place it in a quiet corner of your yard after the holidays; the birds will love it. Or, recycle it. We'll be publishing a comprehensive list of Christmas tree recycling guidelines for each Hampton Roads locality so check back here soon for more details!
Want to keep these tips at hand or help spread the word?
Here's to a happy (and less wasteful) holiday season!