Super Bowl LIV is just days away and neither team has been in a Super Bowl this century! The San Francisco 49ers last played in 1994 and you'd have to look back to 1970 for Kansas City's last attempt. With two thirsty teams on the field, everyone will be tuned in to watch the big game Sunday night. So what's this have to do with a "cleaner, greener Hampton Roads?" Well, it's simple. Almost all of you will be hitting the grocery store to stock up on party platters, burgers, hot dogs, dips and chips, adult beverages, and more! Some of you may even be hosting a bigger Super Bowl party for your coworkers, family, or neighbors. But whether it's just you in your bachelor pad or the whole gang, the choices you make at check out and in your kitchen (or bathroom) have a direct impact on our cleaner, greener Hampton Roads. Here's how you can score a touchdown for your "home" team this Super Bowl Sunday.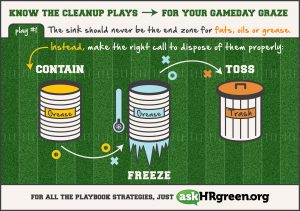 Can the grease. If you're bacon-wrapping your deep fried pickles then drenching them in ranch, well done. You're doing Super Bowl right. But please be mindful to never rinse grease or food down your kitchen sink. Nothing spoils your fourth quarter faster than an unexpected (and expensive) call to a plumber. Here's how you can help prevent backups:

Pour used cooking grease into an empty, heat-safe container like a soup can
Allow to cool or store in the freezer for faster hardening
Once solid, toss into your garbage can for trash day.

Scrap your plate. Like grease, food scraps can contribute to clogged drains and sewer overflows. Your leftovers belong in the fridge to enjoy on "Super Monday" or the trash can.
Order local foods. If you prefer takeout for your game day treats, give a local business your order. Keeping your dollars in Hampton Roads is good for the economy and the environment. Plus pizza shop pizza is always better, amiright?
Speaking of pizza boxes. They don't go in the recycling bin and that's that.
Pick the right beverages. This one may be more controversial than a pass interference call. Consider buying your game day beverages in cans or plastic bottles. Glass is not easily recycled in Hampton Roads so aluminum cans or plastic bottles are a better choice. (Side note: did you know spectators at Super Bowl LIV will be served in special aluminum cups to cut down on single use plastics? Neat!)
Ditch disposables. It's best not to use disposable cups, plates and utensils, but if you must, look for those made from paper or recycled materials. NEVER recycle used cups, cutlery or plates.
Set out recycling. If you're the hostess with the most-est, make sure your guests have easy access to a recycling bin for tossing out their bottles and cans.
The halftime flush. Yep, that's a thing. Our friends at HRSD have tracked this trend for years. Our pipes are busy in Hampton Roads during halftime and after the game. While flows to treatment plants slow down while everyone is glued to the first half, flows increase during the halftime bathroom rush and even more so right after the end of the game. Do your part to keep things flowing in the right direction by flushing only the three Ps – pee, poo and (toilet) paper. Only your personal business belongs in the john.
Ok, team! Let's go make Hampton Roads G-R-E-E-N-E-R!