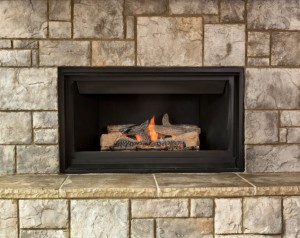 If you have tried to supplement your home's heating system by building a roaring fire in an open masonry fireplace, you might have been doing more harm than good. About 70 to 90 percent of heat energy in the wood you burned disappeared up the chimney. To keep burning, the fire consumed the oxygen in the room—the air that was heated by your furnace or boiler. Plus, the smoke that spilled from your chimney contained noxious gases and particulates that contribute to air pollution.
Fireplace Inserts
Inserts are sealed fireboxes that fit into the opening of your fireplace, usually with glass fronts so that you can watch the flames. They convert 75 to 85 percent of the fuel they consume into heat. They can burn wood like a traditional fireplace, but gas and electrical inserts are also available. Some are purely decorative, but others can provide a significant amount of heat. Products list their heat output in British Thermal Units (Btu). As a general rule, the Department of Energy says that an insert rated at 60,000 Btu can heat a 2,000-square foot home; one rated at 42,000 Btu can heat a 1,300-square foot space.
Wood-Burning Inserts. These are the closest inserts to the traditional fireplace experience. They burn cleaner than traditional fireplaces, thanks to Environmental Protection Agency (EPA) regulations passed in 2015 that restrict particle emissions to 4.5 grams per hour. Good units have a blower fan that heats room air and recirculates it back into the room. Installation may require a new flue liner that runs from the insert to the top of the chimney.
 Gas-Burning Inserts. These are the most popular types of inserts. They are powered by natural gas or propane, so you will need a gas line in the fireplace. Most models work with remotes for easy start up, and you can adjust the height of the flames. Gas inserts have non-burning ceramic logs to give the impression of a roaring fire. Traditional gas inserts are vented through the masonry chimney, but direct-vent models are also available. In this type, a vent pipe goes out the back of the unit and directly through a wall. This eliminates the need for a traditional masonry chimney.
Pellet Inserts. These are fueled by pellets made from compressed wood waste and other materials. The pellets are placed into a hopper and then automatically fed into the fire. As with wood-burning inserts, pellet inserts are certified by the EPA for emission control.
Electric Inserts. These are mainly used for decorative purposes. Some produce heat, but heating with electricity is an expensive option.
If you're concerned about conserving energy and lowering your home's energy bill, you may want to consider a fireplace insert in place of the traditional option. It's an environmentally-friendly way to add warmth or style to your home during the winter months.
Fran Donegan writes on home heating topics for The Home Depot. Fran is a longtime DIY writer, and is the author of the book Paint Your Home.