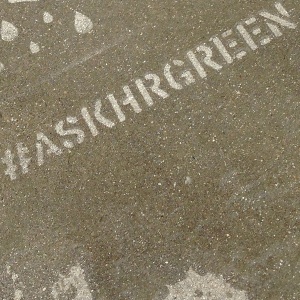 Oh what a rainy summer this has been! But if you're familiar with our Write as Rain stencils, you know that rainy days can be tons of fun. Last month, our askHRgreen.org worker bees diligently hid environmentally-themed messages at schools, libraries, recreation centers, and other public spaces across Hampton Roads. On rainy days, these messages will magically appear, sharing important environmental pledges that youth and grownups alike can take to improve our local environment. And this year, we're serving up prizes for our rainy day message hunt!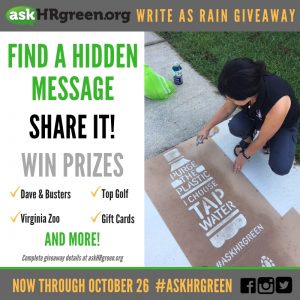 Follow askHRgreen.org on Facebook, Instagram, or Twitter and share a picture of yourself with a Write as Rain hidden message using the #askHRgreen hashtag between now and October 26 to be entered into a drawing for fun prizes like movie tickets, gift certificates to restaurants, and passes to local attractions like Dave and Busters and the Virginia Zoo. Winners will be selected at random and prizes will be awarded weekly starting September 28. (Note: your share must be set to public or we won't see it!)
Can't find a message? That's OK. It doesn't have to be a rainy day for you to participate in the fun. Anyone can post a photo or video telling us what you're pledging to do to help protect the environment with #askHRgreen to be entered to win.