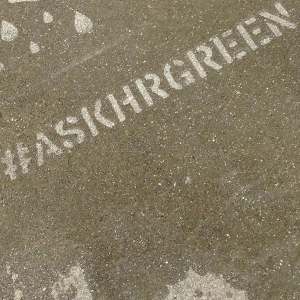 Launched this week (just in time for Earth Day) on sidewalks, streetscapes and thoroughfares throughout Hampton Roads, the motivational campaign will reveal a bevy of good-to-know "green" messages that become visible when wet.
With the approval of local municipalities, askHRgreen.org committee members blanketed the region using custom-made stencils and an eco-friendly rain-resistant spray to adhere their messages to sidewalks in locations where residents gather. When it becomes wet, the surface around the message darkens while the stenciled area stays dry and light. The messages carry such sayings as: Only Rain Down the Storm Drain; No Wipes in Our Pipes; Your Morning Shower Starts with Tap Water; and Cigarette Butts are Litter, Too. There are 12 different messages in all!
Why "Write as Rain?"
The goal of the campaign is to inspire people to think about our Hampton Roads environment in ways they haven't before. What's more unexpected than a magically appearing message written with rain?
Grab your umbrella and head outside to enjoy the next rainy day in Hampton Roads and look for messages in Chesapeake, Hampton, Isle of Wight County, James City County, Newport News, Portsmouth, Smithfield, Suffolk, Virginia Beach, Williamsburg, York County, and more locations. Most stencils will only be visible for three to six months after application.
Current locations:

Past locations:

Whenever you find one of our hidden messages, don't forget to snap a photo to share with us on social media #askHRgreen.