What's the first thing you do each morning when you wake up? Whether your answer is making coffee, feeding your pets, or using the bathroom, it wouldn't be possible without water. Each October, askHRgreen.org participates in Imagine a Day Without Water, a national awareness campaign coordinated by the Value of Water Campaign. Imagine a Day Without Water is about reminding residents just how much we depend on water each day. Water hydrates our bodies, let's us cook and clean, provides for sanitation of schools and hospitals, and powers much of the economy, especially here in Hampton Roads.
After several years of COVID-closures, askHRgreen.org is excited to partner once again with local breweries to raise awareness about the value of water. With the help of local breweries, askHRgreen.org is excited to distribute water-themed giveaways at participating local breweries beginning October 20, 2022 and continuing while supplies last. In the past, more than 15 locations participated in Imagine a Day Without Water and shared the value of water message with their guests. We'd love to top that number in 2022 and show an outpouring of love for local breweries after a few tough years. The campaign is not only an important way to raise awareness about our most precious resource, water. It's also a great way to support small shops and local businesses here in Hampton Roads.
Registration is now open for breweries and coffee shops in Hampton Roads. Sign up now! And be sure to download resources from the Outreach Toolkit to promote your partnership on social media.
          "This is a fun way to make a serious point—that we shouldn't take water for granted," said Katie Cullipher, askHRgreen.org team leader. "No water? No beer. But a day without water also means no bathing, brushing your teeth, flushing a commode or filling your dog's water bowl."
There's a lot that goes into making the tap water flow freely from the faucet. There are water workers needed to operate and maintain complex water treatment and distribution systems. These often unseen systems include a network of pipes that carry water to and from our homes. Beneath our streets, there is a vast amount of infrastructure — more than 6,500 miles of water distribution pipeline and 5,800 miles of sanitary sewer lines throughout Hampton Roads. These systems, and the people who maintain them, work silently and reliably to keep the water flowing. Because they are out of sight, we often take them for granted, but their proper maintenance is essential.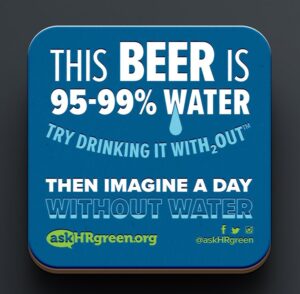 Check back often as we begin to list our partnering breweries on the map above! Make plans to visit a participating location on October 20, 2022 for the water-based beverage of your choice and remember these smart water use tips to be a water hero yourself.
Find and fix leaky faucets and toilets
Turn off the faucet when brushing your teeth
Wash only full loads of laundry and dishes
Take shorter showers
Flush only your personal business down the toilet to avoid backups (no wipes, paper towels, cat litter, hygiene products)
Keep local waterways clean by:

Scooping the poop when you walk the dog or even in your own backyard
Perform a soil test before applying fertilizer to your yard
Never feed geese or ducks
Send only rain down the drain