What are your wishes and thoughts for our waterways and the Chesapeake Bay? Your "wish" may be for less pollution or litter; it may be for better habitat or perhaps you'd like to express your appreciation and love for the water. All those thoughts reflect how important the water is to all of us living in Hampton Roads.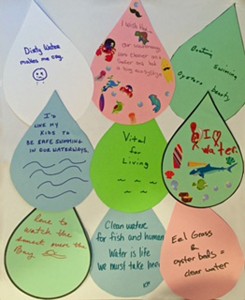 Hampton Waterways Restoration Project would like to give those thoughts a voice by sharing them with the rest of the community and with Hampton city leaders. Each water drop wish will be attached to a rope and hopefully it ends up being a long one! Who knows, if we get enough water drops, maybe we can one day stretch it across the Hampton River?!? The chain of water drop wishes will be shared with Mayor Tuck and the rest of City Council at the Hampton City Council meeting, Wednesday, October 12, 1016.
To get involved, print this the water drop template on 8.5″ x 11″ card stock paper (any color); cut out the drop and create your Water Wish.. Then drop off your Water Wish with Hampton Clean City Commission (HCCC) 1296 Thomas Street, Monday-Friday, 8:00 a.m. – 4:30 p.m. Pickup may be available for larger groups, call 727-1130 for additional details.
Water Wishes may also be decorated, scanned, and sent electronically to hccc@hampton.gov. Please put "Water Wish" in the subject line. We will then print and cut your drop to add to the collection!
We hope you'll join us in this effort! We also hope you'll help us spread the word, so we can see just how far our thoughts can spread out on that rope!
Guest blog submitted by Claire Neubert, Chair of Hampton Waterways Restoration Project, a committee of the Hampton Clean City Commission.