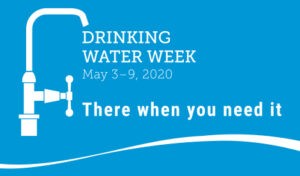 It' s Drinking Water Week and askHRgreen.org is focused on all things tap water. Did you know that without tap water social distancing and handwashing would be virtually impossible? In fact, women and children in developing countries across the globe have to walk, on average, more than 3.5 miles round trip to retrieve water. Even worse? The water they collect is often contaminated with life-threatening diseases from lack of sanitation or water treatment. Compare this to the ease of walking to the kitchen sink and you'll understand why we should never take our drinking water for granted. We put in very little effort for the water to wash our hands and quench our thirst but there's a big, often unseen system at work making it all possible.
So what goes into delivering safe drinking water to our taps 24 hours a day, 365 days a year? That's exactly what parents and students will learn in this week's lesson plan. The learning from home resources outlined below will cover drinking water treatment, water as a limited resource, and simple ways we can all help conserve this life-bearing resource.
Week Six: Drinking Water Week
Learn
Assignments & Worksheets
Elementary Students:
Middle School Students:
Experiments & Activities – all ages, parental supervision may be required
Use creative writing to tell the story of a day without water.