Don't miss your chance to see some decked out rain barrels courtesy of 'Roll Out the Rain Barrel!' from Chesapeake Master Gardeners. Your average rain barrel is pretty plain and doesn't have much character. But 11 artists, 4 schools and 2 community groups have all signed on to transform rain barrels from no nonsense rain collectors to undeniable works of art. Just check out these fantastic rain barrels from the last rain barrel roll out! And it's all for a good cause.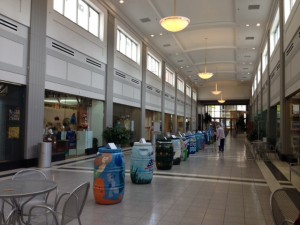 Photo credit: Chesapeake Master Gardeners
The Chesapeake Master Gardeners use the decorated rain barrels to help educate the community about the benefits of rain barrels. The rain barrels will be displayed throughout Hampton Roads and will eventually be auctioned or raffled to raise money to support local water education and protection efforts.  You can stop by and see the rain barrels at the following locations:
June 12-26: Selden Arcade in Norfolk – "Meet the Artists" reception on Saturday June 21st at 2pm.
July 3: Chesapeake City Park Concert/Fireworks
But you don't have to be artistic to make your own rain barrel. Chesapeake Master Gardeners hold rain barrel workshops every 3rd Saturday from June through October. There's even a $10 off coupon for the June workshop when you use your Recycling Perks points!
Rain barrels give you a source of free water for all your outdoor watering needs. But did you know they are also on the frontlines of the fight against water pollution? Or that they can help prevent ponding in your yard and flooding in your neighborhood? By collecting the rainwater your house would typically send down the driveway and into the storm drain, you prevent pollution from entering waterways and avoid overloading the stormwater system.
If your organization would like to host a designed barrel at your site, contact Denise Weixel (757) 424-7987.