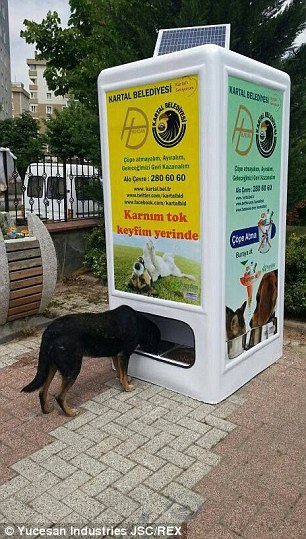 Every once in a while you come across an idea or invention that makes you slap your forehead and go, "Duh!"  That's what happened when I read about this.  Istanbul apparently has a big issue with stray dogs and cats.  And of course the entire world has issues with trash.  So, inventor/genius Engin Girgin, decided to solve one problem with a solution for another problem.  He created a vending machine that accepts plastic bottles for recycling and dispenses food for the strays.  The pet food is paid for by the money collected from recycling the bottles!  Recycle a bottle and more food will drop into a bowl down below to feed hungry, homeless puppies and kitties!  Oh, and it runs off solar energy so it's eco-friendly.  Amazing!
What if we filled the machine with shelf-stable food for humans and we slap one of these babies in the middle of Time Square?  Recycle a bottle, provide a meal for the homeless!  Or how about we replace the same old office vending machine we get our sodas from with one that requires a bottle deposit for a few cents off your purchase?  Give a bottle, get a bottle!
There are so many ways we can encourage people to recycle and you just can't beat an idea that helps solve another problem at the same time!
How else do you think we can encourage others to recycle?