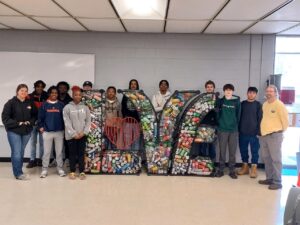 Inspired by the iconic Virginia LOVE sign, askHRgreen.org placed a call for artists last fall to find a local talent to create a recycling-themed LOVE sign as part of the "Start Smart, Recycle Right" public awareness campaign. The Start Smart, Recycle Right campaign encourages residents to create less waste and recycle only those items accepted in their local recycling program – most often paper, plastic bottles, and metal cans. We're excited to announce that earlier this year, Tom Shirk and his students from Suffolk Public Schools' College & Career Academy at Pruden (CCAP) were selected as the winner of this unique art challenge. The team received a $2,500 stipend to cover costs for materials, along with additional recyclable materials to complete the sculpture.
Since January, Mr. Shirk and his team of student welders have been hard at work welding materials to spell out the word LOVE, with a heart-shaped O. The see-through design is filled with recyclable beverage cans and plastic bottles and secured with a lightweight mesh to tie the whole concept together. The LOVE sign is 8' x 5' and ready to start its journey across Hampton Roads to encourage recycling and waste reduction. Its design and construction complemented state-mandated work standards for welding that included stick, Mig and Tig welding, as well as Oxy/fuel and Plasma cutting. Mr. Shirk shared that "the LOVE project for askHRgreen.org was an amazing opportunity for the students to apply the welding techniques they learned in the classroom" and that students "had the opportunity to operate with such confidence in their abilities while also understanding the connection to the larger message of recycling bottles and cans."
TFC Recycling, a partner in the Start Smart, Recycle Right campaign, was thrilled to see the thoughtful approach students took to creating the LOVE sign. President and CEO Michael Benedetto commented that the sign will be a meaningful way to start conversations about which items are recyclable in local recycling programs.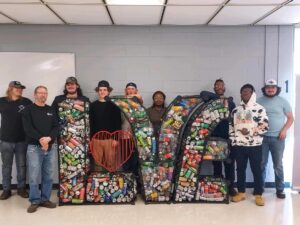 The LOVE sign will have its first public "reveal" on Saturday, April 22, during the Suffolk Earth and Arts Festival at Westminster Reformed Presbyterian Church, 3488 Godwin Blvd. in Suffolk. In the coming months, we'll be moving the sign across the 757 to different events and attractions. People who visit the LOVE sign are encouraged to post to social media using the hashtag #RecyclingIsForLovers.
Upcoming Schedule
April 22, 2023
Suffolk Earth & Arts Festival
May 2023
Suffolk Art Gallery
June 17-19, 2023
Juneteenth Cultural Celebration

Barrett's Landing (100 Barrett St, Franklin, VA)

June 27 – July  21, 2023
North Suffolk Library

2000 Bennetts Creek Park Rd, Suffolk, VA 23435

August 1, 2023
National Night Out

Kings Fork High School

351 Kings Fork Rd

Suffolk, VA 23434

August 2023
Newport News Recovery Operations Center

520 Atkinson Blvd

Newport News, VA 23608

September 7 – 30, 2023
Norfolk City Hall

810 Union Street

Norfolk, VA 23510

October 2023
Norfolk – more details to follow

Virginia Beach – more details to follow

November 2023
 James City County – more details to follow
December 2023
York County – more details to follow
January 2024
 Gloucester – more details to follow
February 2024
  TBD
March 2024
Chesapeake Conference Center
April 2024
 Suffolk Earth & Arts Festival
Check out some of the love our LOVE sign has received!
Local students weld LOVE sign to remind you to recycle. (WAVY-TV Newscast):  https://www.wavy.com/video/local-students-weld-love-sign-to-remind-you-to-recycle/.
Recyclable LOVE sign welded by Suffolk students will travel around Hampton Roads. (WHRO Public Media News): https://whro.org/news/local-news/37715-recyclable-love-sign-welded-by-suffolk-students-will-travel-around-hampton-roads
More LOVE for the Environment. (Keep Virginia Beautiful):  https://keepvirginiabeautiful.org/2023/04/17/more-love-for-the-environment/
Opinion: Help communities stay clean and green this Earth Day. (The Virginian-Pilot): https://www.pilotonline.com/opinion/columns/vp-ed-column-cullipher-eastep-0421-20230420-wquyumnclrhvpf4qwaunkhvuku-story.html
"Recycling is for Lovers" with askhrgreen.org on Coast Live. (WTKR-Coast Live): https://www.wtkr.com/coast-live/recycling-is-for-lovers-with-askhrgreen-org-on-coast-live
High School Welders Create Virginia LOVE Sign With Recyclables. (Chesapeake Bay Magazine): https://chesapeakebaymagazine.com/high-school-welders-create-virginia-love-sign-with-recyclables/