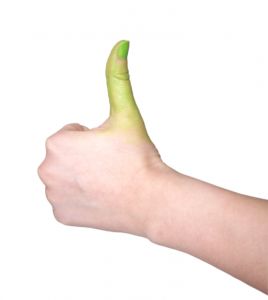 Let me see all the green thumbs out there – raise them up high!
Sadly, my thumb is not in the air.  I'm just green with envy at your planting abilities.  I love gardens, I love being outside, I love playing in the dirt and yet I have this uncanny ability to bring about a slow, sad death to anything I attempt to plant.  Probably because I end up forgetting to take care of it after about two weeks.  But not this spring!  This year I'm getting help – from native plants.
You may have already heard us say "plant more plants" but more specifically, we're hoping you'll plant more NATIVE plants.  Native plants are those that live in the region in which they evolved.  In other words, they'd grow here whether or not we plant them ourselves.
The reason we like native plants for our environment so much is because they can grow here naturally without needing all the extra water and fertilizer and pesticides that those foreign species need.  The reason I personally like them so much is they require less attention from me.  They're much harder to kill and this is a major bonus for lazy gardeners like me.
So what are some native plants you can choose from?  I'm sorry but that palm tree in your neighbor's front yard that was wrapped with plastic all winter is not on the list.  But there are plenty to choose from!  Check out the Southeastern Virginia Native Plant Guide.  Don't be intimidated by this huge list!  A few of my favorite natives include: black-eyed susan, dwarf azalea, sweetbay magnolia and flowering dogwood. There are also lots of ferns, grasses and large trees on the list.  Be sure to pay attention to the light and moisture requirements to be sure the plant will thrive in your yard.
Join me this year in my gardening laziness by planting easy-going native plants!