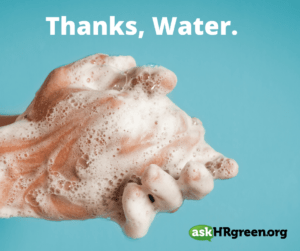 Water is always there when you need it. We rely on it for drinking, cleaning, cooking and bathing. Lately, we've used a great deal of it for washing our hands and sanitizing our homes and businesses. Drinking Water Week is May 3-9, and the municipalities that power the askHRgreen.org public awareness and education campaign have a message to relay—please don't take water for granted.
Now more than ever, we are keenly aware of the value of this most precious resource and its support of public health. Preventing the spread of COVID-19 depends on handwashing and social distancing; two things made possible in part by tap water and the region's water systems.
This network, made up of miles of unseen pipes, ensures the safe supply of water to homes, businesses, hospitals and grocery stores 24/7 every day of the year. Collecting, storing, treating, and bringing water to and from homes and commercial enterprises is the job of the region's municipal utilities. In Hampton Roads, the public water systems are supported by 12 drinking water treatment plants with over 100 wells and 23 reservoirs storing over 34 billion gallons of water. Once all this water is used, more than 1,500 pump stations carry sewage to the 13 wastewater treatment plants across the region.
The essential service that water provides—and the people who deliver it—should not be overlooked. Our region's hard-working municipal workers have taken extra precautions on the job by wearing protective equipment, practicing social distancing, and dialing in remotely to ensure the continuity of service residents rely on for their well-being.
In recognition of Drinking Water Week, let's raise a glass to all the water professionals behind the scenes who bring us this life-sustaining service. Water is the lifeblood of our communities. In this time of great uncertainty, it's reassuring to know that tap water is always there for us when we need it.
Blog contributed by Katie Cullipher and Rebekah Eastep who lead the askHRgreen.org public awareness and education campaign for the Hampton Roads Planning District Commission. For more ways to make an environmental difference on any given day, visit www.askHRgreen.org