Anyone remember the DARE programs from back in elementary school?  Drug Abuse Resistance Education.  Maybe it was just a 90's thing, but I can practically sing the song for you.  "DARE!  To keep the kids off druuuuugs!"
Sorry, I digress.
What I'm getting at is that it seems we need a new program for another victim of the drug war: fish.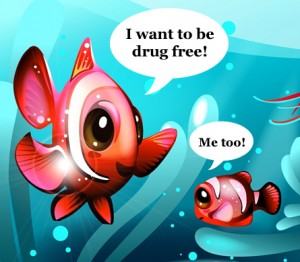 A recent study found that even tiny traces of drugs in our waterways can mess with the "natural balance" of fish.  For example, the study looked at wild European perch in an aquarium that were exposed to small amounts of an anti-anxiety drug.  The fish changed after the exposure to the drug: they moved more, fed more aggressively and, basically, weren't as scared.  Sounds like no big deal, but in fact, even the smallest of unnatural behavioral changes can affect breeding and make them more vulnerable to predators.
Believe it or not, medications get into our waterways through treated wastewater because treatment plants just aren't designed for their removal.  That means flushing old medications down the toilet or washing them down the drain will send these substances to the fishies after a quick stop at the treatment plant.  They can also pose a public harm when hap-hazardously thrown in the garbage (drug abusers and animals can get to them).
There are a few options for proper disposal.  This Saturday, April 27, is the 6th National Prescription Drug Take Back Day from 10 a.m. to 2 p.m.  There are locations all around Hampton Roads – visit this website to find a location near you.   If you miss this event, you can also ask your local pharmacy if they participate in a take back program.
If these aren't options, askHRgreen.org suggests you dispose of medications by crushing or dissolving it in water and mixing it with kitty litter, sawdust or something that would make it undesirable for human or animal consumption.  Then put the destroyed substance back into the original bottle, making sure to mark out any personal information.  Leave it labeled with the name of the medication in the event it's accidentally or intentionally swallowed and needs to be identified.  Then, dispose of it with your regular garbage.