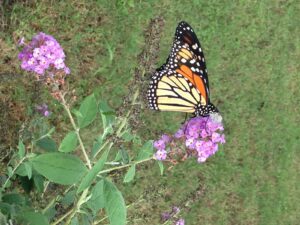 Earlier today, the Associated Press reported that the International Union for the Conservation of Nature had added migrating monarch butterflies to its list of endangered species – just two steps away from extinction. Monarch butterflies are estimated to have declined in the eastern United States between 85-95 percent since the 1990s. In addition to global climate change, a major contributor to the decline of monarch butterflies is due to pesticide use and lack of habitat.
That's the bad news. But here's the good news: YOU can make a real world difference. There are some very simple steps we can all take to help the monarch population rebound. Keep reading to learn more.
Good to know
Monarch butterflies winter in Mexico but migrate to the US and Canada for breeding. The peak season for their appearance in Virginia is August through October.
Native milkweed is the host plant for monarch butterflies. It's the only plant where monarch butterflies lay their eggs and the sole source of food for newly emerged monarch caterpillars.
Adult monarchs need food along their migration path. Providing an ample network of butterfly-friendly plants is crucial to monarchs and all pollinators.
Good to do
Plant milkweed – lots of milkweed! There are nine varieties of milkweed, but swamp milkweed and common milkweed seem to be the favorites.
Dedicate more areas of your yard to pollinator-friendly plants. These plants provide critical habitat for monarchs and all butterflies. Some particularly easy-to-find and grow options include butterfly weed, aster, coreopsis, bee balm, and phlox. Check the Native Plants for Southeast Virginia guide for more options.
Support conservation landscaping in public and private spaces. Your business, neighborhood park, faith-based organization, school, or community center could add a butterfly garden to their landscaping. This increases critical habitat and creates more waystations for monarchs to visit as they migrate across Virginia.
Ditch lawn chemicals. Chemical pesticides and insecticides are not only harmful to monarchs but also children, pets, and other pollinators. These manmade chemicals are known carcinogens and are best used sparingly or not at all.
Eat organic. If eating organic is an option for you, do it. Choosing organic foods is applying the above tip on a global scale. Pesticide use in commercial farming plays a big role in habitat reduction for monarchs. A more affordable alternative for those with a backyard may be to grow your own organic fruits and vegetables. As a bonus, butterflies will also love visiting your vegetable and herb gardens.
Together we can make Hampton Roads a great waystation for the migrating monarch butterfly population. We hope you'll join us in taking action to help support these most royal of pollinators.