askHRgreen.org has been making teachers' wishes come true for over 15 years through the Environmental Education Mini-Grant Program, which awards up to $500 for qualifying green-focused youth initiatives throughout Hampton Roads. Over that time, we've funded over $75,000 in projects that have included everything from organizing campus-wide recycling programs to field investigations of nearby waterways.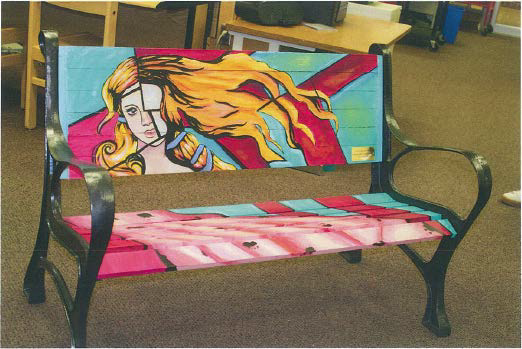 Among last year's recipients, Western Branch Middle School art teacher Gabrielle Toni oversaw a school beautification project in which students transformed wooden park benches into vibrant pieces of art to enhance the school grounds. We caught up with Gabrielle just a few days before school started, to find out her inspiration for this project and future green-themed art plans she has planned for her students.
How has the askHRgreen mini grant program enhanced what you do in the classroom? askHRgreen.org has truly enhanced the overall program here at Western Branch Middle School. Not only have the grants inspired my art students, they have inspired the entire school, including faculty, staff, parents, visitors and students. The art projects we have been able to create have included a huge custom-built seating and plant box area in front of the school and four artistically painted park benches which were brought back to life (repurposed) with a custom and unique mural painted on it. Lastly, the grant we received this year will give us the opportunity to take dull and boring trash bins and turn them in to works of art. The bins will be scattered throughout the building for all to enjoy. There will even be a special "go green" trash bin to encourage reducing, reusing and recycling!  So, long story short:  everyone sees these beautiful creations and it brings inspiration and creativity to the masses!
Can you speak to the grant application process and if you found it to be easy to navigate through?  The application is easy as pie! You simply go to askHRgreen.org and click on the teacher mini-grant link, fill out the user-friendly submission questions and you are all set. I also like to send attachments with my art proposals, as I feel a visual provides a better representation of our initiative. Katie Cullipher is always willing to help, and you can ask her questions or inquire about deadlines if you are unsure of anything.
How do you come up with the ideas that you've submitted in the past? Do you involve students in developing the application? My Art Club students are deeply involved with many of the grant proposal ideas we submit. We have these wonderful ideas, however lack the money to make them happen. askHRgreen.org helps provide grant money to see your creative projects come to fruition.  I have also found that other companies see our art creations and ask if they can help us financially in the future. By promoting your program and ideas on social media, school websites, etc., it puts the word out as to what you and your art students are working on and people get excited!
How did you learn about the mini grant program? What made you consider applying?  I actually had a parent tell me about the grant opportunities available through askHRgreen.org. I believe it was four years ago. I jumped on the suggestion and wrote the grant that year for the seating/benches/planters to go in front of our school. We were greatly lacking in seating and needed some beautification out front.  When we received the grant, the technology teacher and I worked with the art club to build the benches and planters from scratch. We got donated soil and plants from Home Depot and watered our flowers daily. This really launched my passion for creating art on a bigger/grander scale so that more people could witness the talents of my amazing students here at Western Branch Middle School!
Any advice for other teachers looking to do something similar?  I highly recommend that anyone needing financial help with an idea for their students reaches out to askHRgreen.org. This is an amazing green organization that is willing to support local talent. They care about schools and children. The impact their support has had on my art students and the Western Branch community is evident.  So, yes, take the time and submit your proposal. Draw sketches and submit your ideas. Get your students excited. Create!
By the way, Toni received askHRgreen.org's Environmental Action Award for her efforts to inspire youth to have a positive impact on the environment by taking action in their schools or communities.
Interested in starting a project of your own? We are now accepting applications for this year's round of mini-grants, and all Hampton Roads school teachers (K-12), youth leaders or organizations working with youth are encouraged to apply. Hop over to the application page for inspiring project ideas from local teachers or get started on your online application. We can't wait to see what you come up with!