Did you know that askHRgreen.org offers environmental mini-grants for up to $500? Intended to provide funding for environmentally-themed projects, the mini-grants may be used to fund a portion of, or an entire project.
All Hampton Roads school teachers (k-12), youth or organizations working with youth are eligible to apply. There is no deadline for applications, which are accepted year round as long as funding is available.
Projects must be specifically tied to the following environmental topics:
• Waste Reduction
• Water Conservation
• Recycling and the 3 Rs
• The Water Cycle
• Pollution Prevention
• Litter Prevention
• Watershed Education
• Soil Erosion
• Storm Drain Marking
• Habitat Restoration/Creation/Beautification
• Waste or Water Audits
• Waterwise Landscaping
• Fats, Oils, and Grease Disposal and Recycling
• Properties of Fats, Oils, and Grease
• Impacts of Fats, Oils, and Grease on Wastewater Systems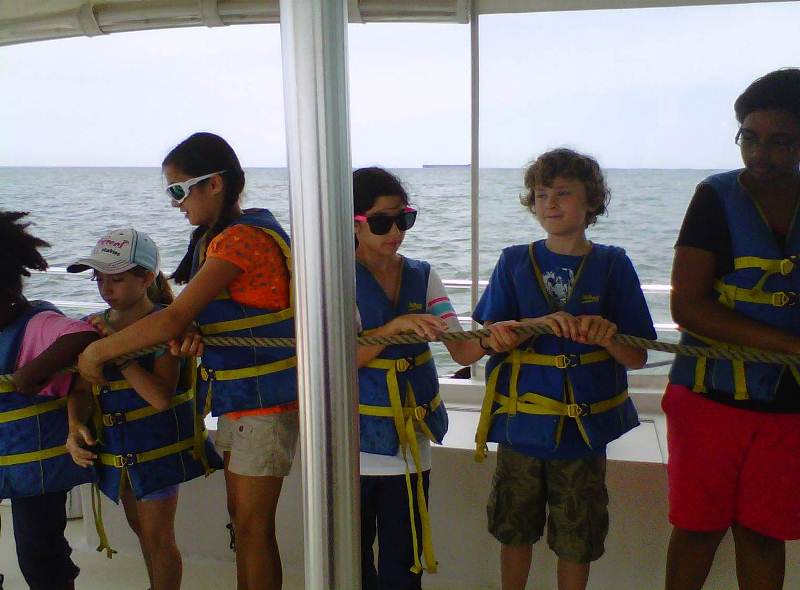 Last fiscal year, askHRgreen.org awarded $9,248 in mini-grants to 24 schools in 9 localities!
Highlights from last year's projects: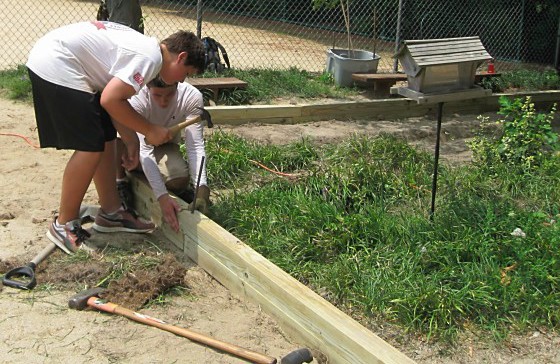 Restoration of Children's Garden, Williamsburg Montessori School, Williamsburg
Topics: Habitat Restoration, Creation and Beautification
Number of children involved: 70
Goals & objectives: Restore children's gardens with mulch, plants and border ties to create a nature sanctuary for the children. Incorporate National Wildlife Federation's Backyard Habitat guidelines to provide the elements for attracting and supporting native wildlife. The students will learn about native plants, plant life cycles and the requirements for animal survival. Students will help dig and plant, spread mulch and place the water and shelter sources for birds and animals.
What did the students enjoy most about the project: The students enjoyed transforming dirt and sand into something of beauty. They liked the process of learning what plants need to survive. From that lesson, we talked about the importance of plants to birds and insects. The worm study was a hit, too! Students also enjoyed spending time outside tending to the plants, filling the bird feeder and making sure the ground stone was clean to collect rain water.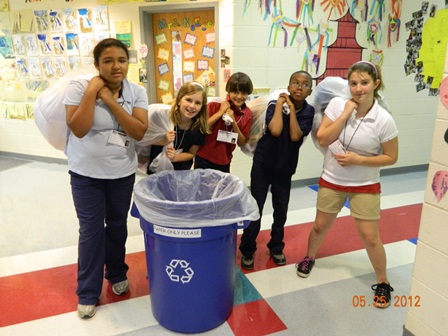 Paper Recycling Program, James River Elementary School, Williamsburg
Topics: Waste Reduction, Recycling and the 3Rs
Number of Children Involved: 500
Goals & objectives: K.10 – The student will investigate and understand that materials can be reused, recycled and conserved. Key concepts include a) materials and objects can be used over and over again; b) everyday materials can be recycled. 1.8 – The student will investigate and understand that natural resources are limited. Key concepts include c) recycling, reusing, and reducing consumption of natural resources. 3.10 – The student will investigate and understand that natural events and human influences can affect the survival of species. Key concepts include c) conservation and resource renewal.
Project outcome: James River Elementary School increased their paper recycling efforts by four times once we had a central location. Each room had a small blue bin, but collection was difficult because classes had to be interrupted to collect the recycling. Now with a large bin in each core room (K, 1, 2, 3, 4, 5 and the copy room), the teachers can have students take their bin to be dumped at their convenience. The office bin was emptied daily by a custodian who volunteered to help. The three 'core' bins were emptied by the teacher and a team of 5th graders who were completing a service project.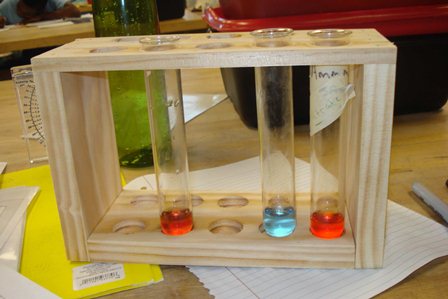 Student Water Quality Assessment of the James, Elizabeth and York Rivers, Booker T. Washington Middle School, Newport News
Topics: The Water Cycle, Watershed Education and Habitat Restoration
Number of Students Involved: 70-90
Goals & objectives: To enhance the students' understanding of the Chesapeake Bay water quality issues using real water quality data collected and measured by the students. Students will: Measure water quality parameters weekly at approximately 5 streams located within the James River, Elizabeth River, and York River sub-watersheds; evaluate test results between locations to determine relative water quality; and compare their results with real data collected by NOAA Chesapeake Bay Buoy Information System; prepare a report/presentation of their results to the class.
What did students enjoy most: Students enjoyed being able to analyze the water data themselves. The class had done a lot of reading about the Chesapeake Bay and its report card. The project showed them first hand why so much data is important and why some people think there is not a problem and what the problems are with the water quality. The class talked about the Hudson Riverkeepers and the Friends of the James River.