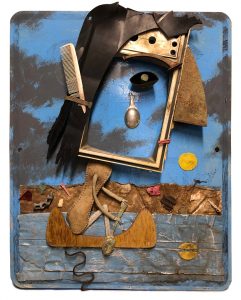 You may recall this year's Great American Cleanup resulted in a significant clean sweep of Hampton Roads. More than 1,000 volunteers turned out in early May to beautify community gardens, improve shorelines, plant new trees and pick up trash. At the end of the two-day cleanup event, more than 15 tons of litter was removed. Not all that debris, however, was destined for local landfills. Volunteers set aside specific objects, including flattened metal containers, furniture fragments and other unusual items. Why? So that local artist Sam Hundley, in partnership with askHRgreen.org, could transform these finds into a commemorative Great American Cleanup art piece.
Sam's work is now done, and we've had a peek. If we may say, it is simultaneously striking, poignant and thought-provoking. Now we are taking the art piece, entitled "A Public Service Announcement," on the road so we can share it's important message with everyone in Hampton Roads. The art piece has graced the lobby of the askHRgreen.org headquarters at the Hampton Roads regional building for several months but it's officially on the move. Destinations include Chesapeake City Hall, the Virginia Aquarium in Virginia Beach, the Mariner's Museum in Newport News, Isle of Wight County History Museum in Smithfield and more to be announced in 2020. Opportunities to join the Public Service Announcment tour are still availble, contact hrgreen@hrpdcva.gov for more details.
Sam and all of us here at askHRgreen.org hope this work of art will inspire others to keep Hampton Roads beautiful by participating in future cleanups, beautification projects and recycling events in our region. To find a cleanup project happening near you, visit the Team Up 2 Clean Up or mark your calendars for March 27 & 28 and join us for the 2020 Great American Cleanup.