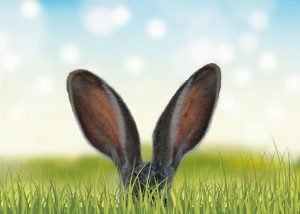 Here comes Peter Cottontail and Easter is just days away. If you're anything like me, you're still scrambling to decide what meals to make and how best to celebrate with the youngsters in your life. But there's always time to think about how our choices will impact our Earth. Waste can really pile up from celebrating holidays so give these tips some consideration as you wrap up your Easter prep.
Use real eggs. Plastic eggs are great for concealing prizes and candy, but they are going to be around for a really long time. Plastic that ends up in the landfill can take 450 years to decompose. Not cool. So boil up some eggs, decorate them with the kids and leave them out for the Easter Bunny to hide on Easter morning. As an added bonus, it counts as meal prep for the week!
Invest in a nice basket. All too often we get caught up in the "throw away" mentality of the holidays with things like single use baskets. But our family has the tradition of reusing the same basket each year. Like stockings left out for Santa, we place our special baskets out for the Easter Bunny to fill with sweet treats and silly spring toys on Easter morning.
Ditch the plastic grass. Again, let's de-plastic your Easter. Plastic Easter grass is not only bad for the environment, it's potentially dangerous to small children and pets as well. Opt for shredded newspaper, magazines or colored paper for an eco-friendly alternative.
Green (Literally) Centerpieces. It's spring and the flowers are blooming. Make a bouquet from the flowers blooming in your own yard to serve as the centerpiece of your Easter celebrations. Don't have flowers, in your yard? Let's fix that! Plant spring blooming native plants like Eastern Redbud and Dogwood trees, drought tolerant bulbs like daffodils, crocus and hyacinth or the Easter favorite, forsythia.
Celebrate with plants. Easter is all about renewal and what better way to celebrate than to add new plants to our world. The mild spring temperatures are the perfect time to plant new plants. While you're outside for your Easter egg hunt have the kids help plant a new tree or set up a station for them to create their very own container gardens that they can care for all spring and summer long.
Have a Happy Easter from askHRgreen.org!