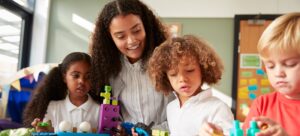 Reading, writing and arithmetic may be top of mind as the school year approaches, but we're encouraging parents and students to focus on reducing, reusing and recycling too! Using what you have on hand and making smart buying decisions can make the back-to-school ritual easier on the environment. You'll often save time and money too! It's also a great opportunity to show students how to incorporate eco-friendly behaviors into their own daily lives and decisions. By teaching ways to reduce waste, conserve natural resources, and recycle and reuse materials, green classrooms instill in students an appreciation for the environment and an awareness of their influence on the world around them. Check out our top green tips for students, parents, educators and school support groups as we all get back into the school routine.
For Students and Parents
Take inventory. Before hitting the store for school supplies, take inventory of what is already around the house. See if last year's staples—such as binders, pencil cases, supply boxes and backpacks—could be used for another term.
Close the recycling loop. When purchasing new items, such as pens, paper, notebooks and pencils, look for products made from recycled materials.
Get thrifty. Consignment and thrift stores give clothes a second life and your wallet a break. Before buying new apparel, see what's available at local secondhand stores. In addition, some PTAs sell used school uniforms to fund field trips and special programs.
Pack a waste-free lunch. No need to pack green eggs and ham to send children to school with a green lunch. Follow these quick tips for a waste-free meal:

Use meal/snack containers instead of plastic baggies.
Send flatware instead of disposable utensils.
Use refillable drink bottles instead of juice boxes or bottled water.

Catch the bus. While walking or biking to school is the greenest way to get to class, sending your child to school on the bus saves gas and puts fewer cars on the road, resulting in fewer CO2 emissions and improved air quality.
For Educators
Apply now for askHRgreen.org Mini Grants. This initiative provides funding of up to $500 for projects that are specifically tied to environmental topics. There is no deadline for applications, which are accepted year-round as funding is available. Look for project inspiration and apply online at askhrgreen.org/grants/environmental-education-mini-grant/.
Download the Green Learning Guides. Written according to Virginia SOL guidelines, the Guides connect students to their Hampton Roads environment by combining educational information with fun, age-appropriate activities. There are versions for both Elementary and Middle School students and a corresponding teacher's guide, too.
Have students take the Green Classroom Pledge. Bring additional value to your students' education by implementing green processes in the classroom. This pledge will remind them of things they can do to make their classroom a green environment. Download the classroom pledge here.
Choose paperless. Many schools, PTAs and student clubs offer the option of paperless correspondence. Do it! Sign up for electronic only.
For School Clubs and PTAs
Start a Green Team. Tomorrow's green leaders are in your classrooms today. Engage green-minded youth to run school recycling programs, promote refillable water bottles, discourage single-use plastics, tend community gardens, and more. Peer-to-peer education is an important way to promote sustainable living.
Invite parents to drop off cool stuff for art projects. Magazines, cloth scraps, bottle caps and toilet paper rolls can be transformed into amazing works of art.
Re-think the car wash fundraiser. There are other ways to raise money than hosting a car wash that sends dirty, oily wash water into the storm drain system and on to our local waterways. Be the green leader in your group and suggest alternatives. If a car wash is inevitable, check our tips for holding a waterway-friendly fundraiser car wash.
Save the date for the Great American Cleanup. Put March 24-25, 2023 on the calendar, and plan for your school to be a Great American Cleanup site. It is a fun way to gather parents, teachers, students and the neighboring community to keep litter off the ground and out of local waterways.
Have a wonderful 2022-2023 school year!