That gorgeous white stuff that falls from the sky may be beautiful to look at (and fun to play in), but it sure does leave behind quite the dangerous mess. Roadways and sidewalks are likely to be slick over the next few days as snowy weather moves in to the 757. The Department of Transportation and municipal crews are already hard at work treating our local streets and highways to prevent icy conditions. Business owners, property managers, and homeowners should be taking action too. Preparing now will leave you much better equipped to respond to those icy conditions. Here's what you need to know:
Go "au naturel" – Use these tips to deice without the use of harsh chemicals.
Make a mixture of warm water and table salt. Apply solution to small areas of thin ice.
Apply sand over ice to improve traction.
Before the freezing weather arrives, cover high traffic areas around your home (such as your entry steps) with a trap or other heavy, waterproof plastic. When you're ready to deice, simply remove the tarp and enjoy clean, dry surfaces.
Going with chemical deicers? Here's what you need to know: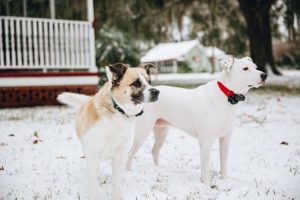 Magnesium chloride & calcium magnesium acetate are ranked as the least toxic deicing salts because they contain no cyanide and less chloride. This makes them safer for hard surfaces, cars, and the environment.
Calcium chloride doesn't contain harmful cyanide but it can be harmful to your surfaces, lawn, and plants.
Rock salt, also called sodium chloride, is probably the most commonly used deicer to treat ice and snow on sidewalks and driveways but it contains cyanide which can be harmful to hard surfaces, vehicles, plants/grass, and even your family pet!
Lawn fertilizer should never be used as a deicer. It's toxic to the environment. In fact, fertilizer should NEVER be left on ANY hard surface whether it's sunny or snowy. Melting ice and snow will carry fertilizer into our local waterways contaminating habitat for local populations of fish and crabs.
How to safely use chemical deicer:

Read instructions carefully and follow them closely. Overuse of chemical deicers will increase the chance of damaging your home and lawn.
Apply deicer BEFORE snow falls or temperatures drop to prevent ice from forming in the first place.
If snow and ice are already accumulated, remove the loose top layers with your snow shovel. Deicer works best on thin areas of ice.
Keep chemical deicers away from your lawn, plants and any area used by your pet.
Treat only high traffic areas. Pick a single path to use to get safely in and out of your home.