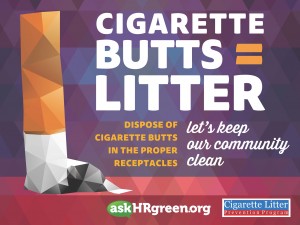 Did you know that for the last 27 years, cigarette litter has been the number one item picked up during Clean the Bay Day and the International Coastal Cleanup? Sadly, most smokers believe that cigarette butts and cigar tips are biodegradable. They are not. The problem is not only that cigarette litter is unsightly. It can als0 cause fires in mulch material, clog storm drains and endanger marine animals. Studies have shown that eighteen percent of litter dropped on streets ends up in waterways.
The Newport News Resource Recovery Team and Community Maintenance/Beautification Team have been partnering with Keep America Beautiful for over four years to promote awareness about cigarette litter and engage community partners in cigarette litter prevention projects. This year, Newport News joined Hampton Roads District Planning Commission and the regional askHRgreen.org team to combine resources and share expertise.
You can look at nearly any intersection in Hampton Roads and see evidence of cigarette litter. It costs every city and county in the region a great deal of time, effort and money to clear storm drains that are clogged with litter. That litter can cause flooding and other problems within the community. In all of our projects, we have engaged property owners, residents businesses and our citizens in outreach and awareness and provided pocket ashtrays, permanent ash receptacles to be placed in strategic locations and auto-friendly cup holder ashtrays for smokers on-the-go. Our goal is to provide options to smokers so they will no longer use our streets and sidewalks to dispose of their cigarettes.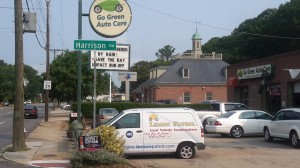 This year's project in Newport News will be along the section of Warwick Boulevard that crosses Main Street. Go Green Auto Care, located at 10500 Warwick Boulevard in Newport News, is one distribution and outreach partner along with other area businesses and the good neighbors at First United Methodist Church and St Andrews Episcopal Church.
How can you help? You can make a difference by:
Carrying a portable ashtray when smoking outside. We have both pocket ashtrays and a limited number of car cup holder ashtrays available at our business partners and at our Recovery Operations Center located at 530 Atkinson Way in Newport News.
Use an ash receptacle to dispose of cigarette butts. These are normally located near transition points where people must stop smoking before they proceed.
Do not throw your cigarette butts out of car windows.
Together we can make a difference.
This blog submitted by Daniel Baxter, Business Recycling Coordinator for the City of Newport News.