We are wrapping up the first Chesapeake Bay Awareness Week, a group effort between Virginia, Maryland and Pennsylvania to inspire citizens to care for this great natural resource.  So many people in Hampton Roads live within the Chesapeake Bay watershed (find your watershed here!)  Even those of us who don't have all the same responsibilities for our respective watershed.  We hope this week has served as a reminder to why we care so much about the health of the Chesapeake Bay – and all bodies of water!
The Chesapeake Bay provides some delicious food – fish, oysters, crabs, YUM! Polluted waters mean no food for you.
In addition to the animals we eat, the Chesapeake Bay is home to a huge assortment of wildlife we want to preserve for future generations to come.
The Bay provides tourism dollars for our region which is always good for the locals. You clean up your house for visitors – we must do the same with our Chesapeake Bay.
We're all part of the same picture. The Chesapeake Bay is a complex ecosystem made up of a huge network of rivers and streams. You might not live right on the water, but you're connected to it in one way or another so its health directly affects your land.
Doing your part to clean the Chesapeake Bay is simply the right thing to do. Whether it's picking up trash, reducing your fertilizer use (your lawn is connecting to a body of water even if you can't see water) or scooping the poop, everyone is capable of doing several small things that add up to something very large.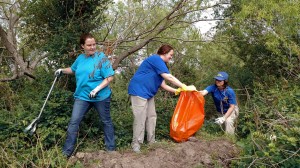 What can you do to help the Chesapeake Bay?