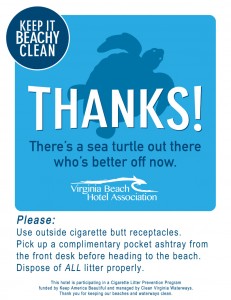 The City of Virginia Beach is excited to participate in two Keep America Beautiful Cigarette Litter Prevention Program (CLPP) grants in an effort to reduce cigarette litter at the Virginia Beach Oceanfront and Lake Smith/Lake Lawson Natural Area.
Clean Virginia Waterways of Longwood University (CVW) is spearheading the Virginia Beach Oceanfront initiative. CVW's program involves working with various partners at the Virginia Beach Oceanfront. This project targets visitors to the resort area and is the first CLPP of its kind!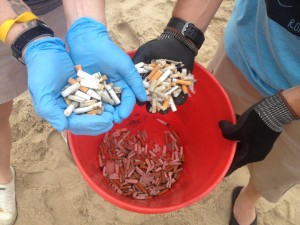 With the help of the Virginia Beach Hotel Association (VBHA) and Virginia Green, CVW partnered with 12 resort hotels and supplied each of them with a cigarette receptacle, pocket ashtrays and program signage for their guests. We also worked with the City of Virginia Beach Resort Management office to place five receptacles on the boardwalk between 20th and 24th Streets. Finally, through collaboration with the VBHA, Virginia Beach Convention and Visitors Bureau and the Resort Advisory Commission (RAC) G.R.E.E.N. Committee, we created graphics consistent with the committee's Clean Beaches Program.
Throughout the project, volunteers from Surfrider Foundation's Virginia Beach Chapter and the Navy's Norfolk Fleet Readiness Center have conducted six litter scans at four sites along the oceanfront, including small areas along the beach, boardwalk and beach access areas. To date, volunteers have counted and removed more than 12,000 butts from the sites.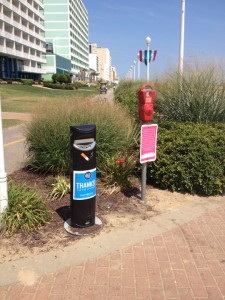 Once the project is complete, we hope the Clean Beaches Program will continue keeping our beaches Beachy Clean!  Keep track of our project on the CLPP Virginia Beach Facebook page: https://www.facebook.com/CigaretteLitterPreventionVB.
Virginia Beach Parks and Recreation is also participating in a CLPP grant coordinated through askHRGreen.org at Lake Smith/Lake Lawson Natural Area. This 42-area preserve has more than 12,000 feet of shoreline and, while the City of Virginia Beach owns the property, the water/reservoir is owned by the City of Norfolk.
After being closed for approximately one year, this popular fishing destination reopened in October 2014 after a major renovation. The improvements include a new boat ramp, car and boat trailer parking, several fishing and overlook platforms, a pedestrian bridge, trail renovations, a large shelter, a new playground and a new restroom facility.
As a part of the grant initiative, five cigarette litter receptacles have been placed throughout the property to encourage proper disposal of cigarette litter. Our goal is to provide disposal resources, educate citizens and encourage our patrons to assist us with litter prevention. This is the first time Virginia Beach Parks and Recreation has participated in the CLPP.
On Saturday, August 8 from 9 a.m. – 1 p.m. staff and volunteers will be at Lake Smith/Lake Lawson to educate patrons on the program. Patrons will learn about the new receptacle locations, receive educational material and free portable pocket and auto ash trays.
In addition, the Virginia Beach Oceanfront and Lake Smith/Lake Lawson Natural Areas CLPP are a part of Terracycle's Cigarette Waste Brigade. The cigarette waste collected is recycled into a variety of industrial products such as plastic pallets, and remaining waste is recycled as compost.
Cigarette butts are the most littered item in America.  We encourage everyone to dispose of cigarettes butts and other litter in their proper receptacles and to do their part in Keeping Virginia Beach Beautiful!
Submitted by Amy Woodson, Virginia Beach Parks & Recreation and Christina Trapani, Eco Maniac Company