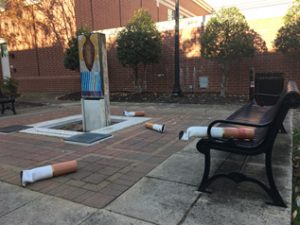 Filters in cigarette butts are made of plastic. They can take a decade to degrade and yet thousands of smokers don't think twice about leaving a trail of cigarette litter behind them. It's still the most commonly littered item in the United States and the world. Despite being prolific most people don't think of them as being litter. To raise awareness of this issue in our community the Suffolk Litter Control Office came up with "Big Butts." Reaching out to local artists, Suffolk Litter Control challenged them to make some giant cigarette butts which could be taken to events and staged around the city to drive home the point that cigarette butts are litter too. Melting PVC pipes, adding some spray on insulation and a splash of paint the artist produced four very realistic butts. The butts travel with Suffolk Litter Control to events where they are very popular and great ice breaker for conversations with the public. Big Butts are not camera shy either and have been featured in dozens of selfies.
Plastics in cigarette filters might be number one on the litter hit list but plastic pollution from other products are having a huge impact on our environment too. We use 500 million plastic straws a day in the US. In one year we consume water, just water, from 500 billion plastic bottles and we go through 100 billion plastic bags. It's incredible the amount of plastic which is now part of everyday life and more than 8 million tons of it is ending up in our oceans every year.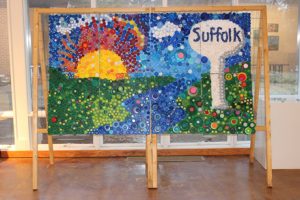 To raise awareness of plastic pollution and encourage people to reduce, reuse and recycle the Suffolk Litter Control Office began a plastic top collection to conclude with a public art project. The collection was launched on America Recycles Day (November 15th) and after six weeks over 20,000 tops had been collected of all shapes, sizes and colors. The collection took off after the local newspaper and Suffolk Public Schools embraced the idea, encouraging everyone to donate their plastic tops from products ranging from soda bottles to detergent. On a Saturday morning in January, high school student volunteers from each high school gathered at the local art gallery to make a mosaic. It took 32 volunteers 5 hours to complete and it turned out beautiful.  The tops were glued to 8 canvasses making it easy to move to different locations around the city. Now on display the mosaic is accompanied by plastic pollution facts and recycling information. The feedback from the public and particularly teachers has been very positive. It was a great project and produced the desired impact.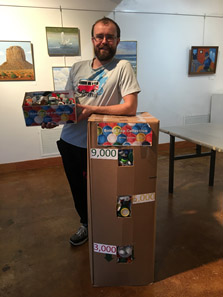 Wayne Jones Litter Control Coordinator for the City of Suffolk holding one of the many collection boxes placed around the city.  The completed mosaic.
References: