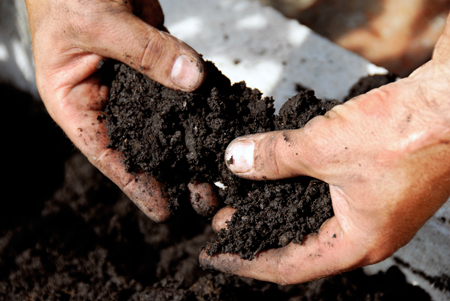 Every year, residents and businesses throughout the region celebrate the coming of Fall with the annual ritual of raking leaves. It is also a great time to prune trees and shrubs for winter. But the question that often faces homeowners is: What to do with leaves and yard trimmings? Blowing them into storm drains causes big problems. Leaves and yard trimmings can block storm drains which can lead to street flooding. They also add nutrients to lakes and waterways which can fuel algae growth and weaken marine habitat. The green thing to do is to check with your locality to find out how leaves will be collected (bagging, curbside leaf vacuuming, etc.) and only placing leaves and other yard debris near the curb on the designated pickup day.
If you are a resident of Newport News, you can drop off trimmings and leaves at the Resource Recovery Operations Center located at 550 Atkinson way in Newport News year around. In the fall, the city conducts a neighborhood-by-neighborhood collection of leaves raked to city streets on specific dates and times. Once collected, tree branches are ground into mulch and leaves are ground and placed in wind rows to make compost. These products are ground and processed by a team of experts then made available for sale to the public (residents, non-residents and businesses) to use in their gardens. This diverts significant tonnage of natural debris from local landfills and creates products that help to fortify soil and beautify local homes, parks facilities, municipal properties, schools and commercial properties.
The Newport News mulch product is fine ground to a 1-2 inch size and is free of contaminants. Although it is not colored, it provides a nice natural look and is an effective way to block weeds in gardens and shrubbery beds. It also is very helpful in promoting drought tolerance in gardens and flower beds. The Newport News compost product is screened and cooked (through natural aerobic action) in wind rows for up to nine months. During this time, the natural processes heat up the compost to a temperature high enough to effectively kill off weed seeds. The resulting compost product is certified by the US Compost Council Virginia Tech and Penn State University. It is the favored product used by local master gardeners throughout the Peninsula and Southside. The Compost product is unique in that it provides for:
Higher yields with less chemicals (better for plants, wildlife and the Chesapeake Bay)
Improves growing conditions by increasing water retention of the mostly clay soil in our region
Provides increased drainage into the aquifer by allowing water to pass through the soil, instead of washing off the top of the soil
Gets more nutrients to the root zones of plants and grasses with the slow release of the nutrients
Is available year around because of the Newport News processing facility
More reasonably priced than bagged fertilizer and mulch
Locally produced
So for your garden, the Chesapeake Bay and your wallet Mulch, Compost and Earth N Rich Blend are great products. To obtain more information and other services available through the Newport News Recovery Operations Center, please call 757-886-7947.
Blog contributed by Daniel Baxter, askHRgreen.org team member and Business Recycling Coordinator for City of Newport News.