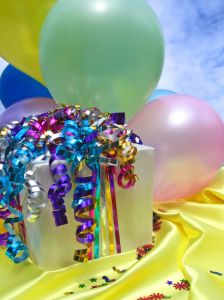 I hate to be the one to say this but kid birthday parties are hugely wasteful.  Paper plates, cups and napkins, plastic toys, one-time-use decorations, all of which will be forgotten in less than 24 hours.  Even if you did have leftover supplies to potentially reuse, you know little Bobby is going to be so over Thomas the Tank Engine by next year.  So this year, consider going green (and bonus alert: saving green) with these eco-friendly kid party tips.
Invites:  Go electronic and send an e-card.  Quick, easy and somewhere a tree gets to live another day.
Supplies:  I know it's tempting to get the matching plates, cups and napkins and be done with it but there's a better way!  Get a set of reusable plastic plates and cups in bright colors that you keep just for kid parties.  This way they remain special for your child, you can have them year after year, you can avoid wasteful paper and plastics, and you don't have to worry about using fragile china.
Decorations:  Every girl in her class is going to have a Barbie-themed party at some point or another.  Help your child break the mold by having her make her own decorations!  A few days before the party, have a decoration-making extravaganza!!  Make a triangle banner by allowing your child to choose pictures from a magazine or coloring book.  Cut them into triangles and staple them, point down, onto a long piece of twine.  Hang that masterpiece on the wall or over doorways.  If you're a glutton for punishment and want your child to have confetti (you're the coolest mom ever), make your own confetti from old magazines.  Hang up Christmas lights inside (every kid likes Christmas lights).  Involve your child in choosing flowers to display on tables or buy a bunch of his or her favorite fruits to put in bowls!  Skip the plastic table cloth but avoid expensive cloth tablecloths by choosing a cheap bed sheet that can be washed and reused.  Check out Pinterest for many more homemade ideas.
Activities:  Encourage a green lifestyle by showing kids it can be fun!  Have them make recycled paper (which can double as a party favor).  Ask each child to bring a piece of clothing that no longer fits them and at the party, tell them about an organization to which you'll be donating the clothes.  Take the party outside and have saplings for them to plant or take them on a litter clean up.  Be sure to explain to the kids why your child chose this type of birthday party so that they can make the connection between their actions and the health of our earth.
Goodie Bags:  There is nothing better than going to someone else's birthday party and leaving with a present of your own.  This year, skip the bags of candy and give each child a small plant or seeds to encourage them to get outside and plant more plants! 
What "green" party suggestions do you have to add?