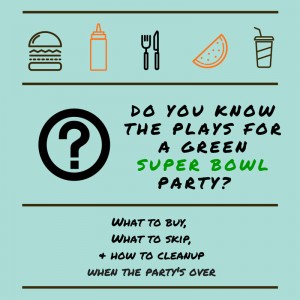 Nothing goes better with good, ol' American football than saving the planet! 
Too much of a stretch? Yeah, ok! The point is the decisions we make every day, be it a regular work day, a small family dinner or a big game day extravaganza, have an impact on our environment and how we will leave it for future generations. So think of it this way – protect future football fans and their right to enjoy Super Bowl 100 by celebrating Super Bowl 50 in the following ways:
 What to Buy:
Better Disposables. It's best not to use disposable cups, plates and utensils, but if you must, pick products that are made of recycled material and/or compostable.
Local Goodies.  Support a local restaurant, pizza shop or brewery for any game day staples you plan to purchase. Buying local is an investment in our economy and reduces your carbon footprint.
Bulk Items. Buy in bulk and knock out your party supply list for the Super Bowl AND the Daytona 500 (or other upcoming celebrations).
What to Skip:
Disposable Cups. Invite guests to BYOC (Bring Your Own Cup) especially one supporting the mascot of their favorite sport team. This offers the convenience of less to cleanup without the harmful environmental impact.
Bottled Water. We know certain beverages are sold in containers, but H2O is not one of them! Safe, clean and great tasting tap water is available right at your faucet so skip the wasteful bottled water.
Garbage Disposals. Food scraps clog drains and belong in the trash not the sink or garbage disposal. Can you imagine the price for a service call to the plumber during the Super Bowl?
How to Cleanup:
Recycle More, Trash Less. Place a recycling container next to the trash can and help guests recycle the appropriate items by labeling it (such as "Bottles and cans here")
Leftovers to Go. Don't let leftovers go bad in your fridge. Fix a plate or goody bag for your guests to take home -  keeping your fridge and our landfills a little cleaner!
Can the Grease. Traditional game day fare is often high fat food. Remember to keep fats, oils and grease out of the kitchen drains and disposal to avoid clogged pipes.