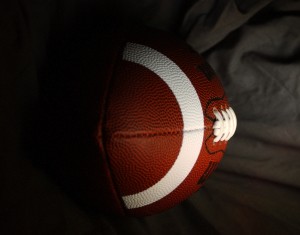 The "deflate-gate" news got me thinking recently and I came up with three surefire ways to deflate a good Super Bowl party: a clogged sink, an overflowing toilet, and a trashy house. Allow me to explain and help you avoid these common pitfalls so you can host a pressure-free party on Sunday:
Clogged Sink
Wings…check! Sausage balls…check! Plumber…wait, what? That's right, football snacks are notoriously greasy. Whatever you choose to indulge in, make sure the fats, oils, and grease from preparing and serving these snacks end up in the trash and not down the drain. When poured or washed down the drain, fats, oils, and grease from cooking can clog sink drains and pipes, causing backups in a home's plumbing. Avoid inviting the plumber to the party and keep your drains fat-free!
Overflowing Toilet
Think about it, your guest dashes in during a timeout to do his or her business only to flush and…uh oh. That's not supposed to happen. You don't want the plunger to make an appearance at your party so always remember to only flush your "personal contributions." No trash, no paper towels, no feminine hygiene products, no disposable wipes (even the kind that market themselves as "flushable'). Only flush the three Ps – pee, poo, and (toilet) paper.
Trashy House
To avoid the trashy house scenario there's one easy play to have in your game book: recycling! Lots of bottles and cans are consumed during the big game so make sure they end up in the recycling bin, not the trash can. Think about it this way, that aluminum can or glass bottle has the potential to be recycled into a new can or bottle that you could possibly consume again at next year's Super Bowl. Don't ruin the aspirations of that poor bottle or can to be a part of Super Bowl 50 and beyond! Put your recycling containers in an accessible location and encourage all of your guests to recycle and keep the dream alive!