Energy Star, the U.S. Environmental Protection Agency's voluntary program aimed at helping individuals and businesses make good decisions about energy use says, "When you are buying a refrigerator, there are really two price tags. The initial purchase price can be thought of as the down payment. You'll be paying the second price tag on your monthly utility bill for about 15 years."
If you're in the market for a refrigerator, the EPA wants you to know that generally speaking, now is a good time to replace an aging model. Refrigerators manufactured today are considerably more energy efficient than those made 10 years ago, thanks to improved insulation and more efficient compressor technology. You may also qualify for help in upgrading an aging fridge. A new program from Dominion Virginia Power offers a $50 rebate for recycling an old refrigerator through the appliance recycling rebate program.
EPA also wants refrigerator shoppers to know that in some cases, when you make a bigger "down payment," if some of the money is going toward a state-of-the-art compressor, upgraded insulation, more durable seals and a "low-energy" setting, you may be taking a significant step toward reducing your utility bills. But there's a catch: if part of your purchase price is going toward a through-the-door ice and water dispenser ($75 to $250), an automatic defrost system or an anti-sweat heater, the energy savings may simply balance out the extra energy requirements of these accessories.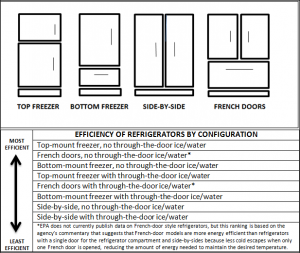 The door configuration and position of the freezer, with respect to the refrigerator compartment, also have significant impacts on the cost of operating a refrigerator for the duration of its service life. According to Energy Star, the most efficient refrigerators are those with a top freezer and no through-the-door ice-and-water dispenser. Most of the popular refrigerator configurations are ranked below.
According to the U.S. Department of Energy, refrigerators account for almost 14% of the typical home energy bill. But the most efficient refrigerators use about 25% less electricity than the least efficient, which can add up to big savings.
The maximum amount of energy that specific appliances may use is actually regulated by law under the National Appliance Energy Conservation Act, first enacted in 1987. If your interests lie in shopping for a more energy-efficient fridge, start looking among those that bear a yellow Energy Star label. To qualify for an Energy Star label, a refrigerator must consume at least 20% less energy than the maximum allowed by law. The label provides estimates of the annual electricity use and operating cost for that particular refrigerator and enables you to compare it to similar models. There are many factors beyond size—configuration chief among them—that play into how much energy a refrigerator consumes.
Michael Chotiner is a DIY expert with many years of general contractor experience related to kitchens, appliances and energy usage. Michael writes about home energy topics for The Home Depot.