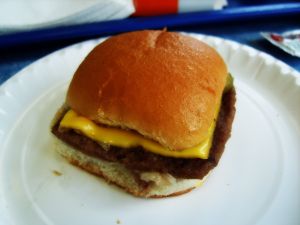 That paper, plastic or Styrofoam plate you eat your burger off of at the neighbor's barbeque is only used for a good 5 minutes before you scarf down the grub and chuck the plate in the garbage!  What a sad, short, insignificant life – except when you consider it will go on to live dozens, even hundreds of years in the landfill!
Instead of relying on seemingly immortal tableware at your next barbeque, consider using pieces with a shorter life expectancy like those made of bioplastics!
Biodegradable disposables, aka "bioplastics", are growing in popularity.  Bioplastics can be made out of a variety of things including your favorite BBQ sides: corn, potatoes and sugar!  These renewable plant resources can be converted into a substance that can be used to create items such as plates, cups, containers even bags!
I know what you're thinking.  Does that mean a bioplastic plate is edible?  Yes and no. It depends which kind you get and I highly recommend reading all labels and, well, just refraining from eating plates of any kind.  A plate made out of bagasse sugarcane, for example, will not taste like sugarcane.  And a plate made of corn will not carry corn allergens so it's safe for use by anyone.   
The best part about these bioplastics?  They decompose in less than 50-150 DAYS.  Not years.  Days.  Big difference.
Immortal tableware, you've met your match!