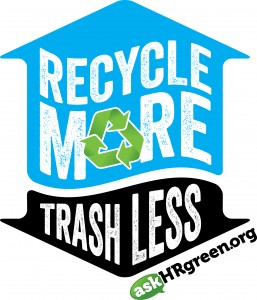 The other day a visitor to our website posed the question, "How can government place more importance on recycling?" It's such an important topic that we thought we'd share our thoughts on the subject here on the blog.
While recycling is an issue of importance all across the U.S., most recycling initiatives are run by state and local governments – not the federal government. For example, here in Virginia, most curbside recycling programs are the result of a 1989 Virginia Department of Environmental Quality mandate that each city, county, town or regional authority establish recycling programs. At the time, the goal was to recover at least 25 percent of the trash typically sent to the landfill but the benchmark was later amended so smaller cities/counties were only charged with meeting 15 percent of trash collected, while larger cities/counties were required to meet the 25 percent mark.
To help people see the importance of recycling, most state and local governments engage in widespread outreach on the issues of waste reduction and recycling. These outreach initiatives educate people about the important role recycling plays in the management of natural resources, the economy, and environmental health. That's exactly what we do here at askHRgreen.org!
And while it is very important for people to use their local recycling program to keep trash out of the landfill, it is equally important that people recycle well.
To recycle well you must place only clean, accepted items into the recycling bin. Sorting out unaccepted items is a huge headache for your MRF (materials recovery facility). Not to mention the expensive damage caused to machinery when unaccepted items (like plastic bags) are processed! Recycling well improves efficiency, decreases expensive repairs and provides a better end product.
It's also important for people to support businesses that use recycled content in their products. We call this 'closing the loop.'  The only way a recycling system can be successful in the U.S. is if there are businesses and manufactures looking to buy the materials produced by the recycling cycle – namely metals, glass and plastics. And as new technology emerges, more and more materials are able to be accepted for recycling. The markets for these materials are constantly changing but at the end of the day it's really all about supply and demand!
To learn more, check out these innovative recycling initiatives that are happening right here in the good old US of A!
Recycling Perks – A rewards system to get citizens to participate in recycling programs. Points are earned each time a residents puts their recycling out for pickup.
Pay-as-You-Throw – Residents purchase special imprinted trash bags for trash disposal. This is a powerful economic incentive for residents to reduce waste by making them pay for what they throw away.
Zero Landfill – A growing trend among small and large businesses alike. Organizations find creative solutions for dealing with waste instead of sending it to the landfill – like composting food waste and recycling wooden pallets. Here's a great article from 2012 on the movement from USA Today.
Do you have a local environmental question? If so, the experts at askHRgreen.org are always happy to help!