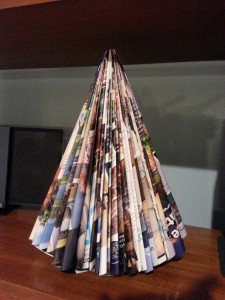 Recently, we received an inquiry from someone looking for a place to drop off old magazines. That really got us thinking! Recycling them is certainly a great option, but reusing them is always our first choice. When you're done reading, think about donating your magazines to a senior living facility or local nail salon before they hit the recycling bin. Another great option for old magazines – turn them into beautiful holiday decor!
Our good friend from Keep Norfolk Beautiful, Lisa Renée Jennings, recently shared with us that she makes these beautiful magazine trees. It is simple and easy to do: simply open up the magazine and fold down the top corner of each page. Then repeat as you would when making paper airplanes. It's an easy task to do while watching your favorite holiday program on TV and kids can even get in on the fun – this craft will help build their fine motor skills.
So, if you're feeling crafty this holiday season and you have some old magazines laying around, deck the halls in a reusable way! Here's a step-by-step tutorial we found online to help get you started. Magazine trees make great gifts for your eco-savvy friends and they can easily be stored to use again next holiday season. Happy Holidays!