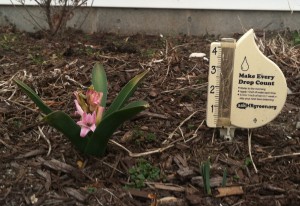 Homeowners across Hampton Roads are gathering their trowels, gloves and trimmers and heading into their yards to cleanup after the long harsh winter. The warming temperatures and longer days make spring the perfect season for perfecting your curb appeal.  With a little advice from the experts at askHRgreen.org, you can have a great looking yard without all the back-breaking work or environmental impact. A low maintenance yard, is an eco-friendly yard! Follow these easy-to-do tips when planning your landscape and get the easy on the eyes, environmentally-friendly yard of your dreams.
Test your soil. Applying fertilizer to your lawn may not be necessary. Soil in the Hampton Roads region actually has naturally high levels of  many nutrients including phosphorous. An inexpensive soil test can help determine if fertilizer is needed in your yard and if so, how much. Cutting back on fertilizer saves you money and improves local water quality. Details at www.askhrgreen.org/put-your-soil-to-the-test/
Seed bare spots. Bare spots in your grass are unsightly. But they are also bad for the environment. Soil testing may reveal a nutrient deficiency that can be addressed through soil amendments like compost or fertilizer. Or maybe you just don't get enough sun for the grass you are growing. Consider other ground cover options or flowerbeds which may be more suitable for turf-grass-hating areas of your yard.
Plant more plants. Grass is better than bare dirt, but plants and trees are better than grass! Flowers and trees make your yard look great and soak up lots of rainwater, keeping pollution out of waterways. Bonus? Less grass means less mowing!
Choose native plants. Native plants are often drought tolerant, disease resistant and perfectly suited to thrive in our climate. Because of this, they require little to no fertilizer while still providing the landscaping look you seek. Just put them in the ground and watch them thrive. Now that's low maintenance!
Leave grass clippings on the lawn. Don't blow grass clippings into the road or down storm drains. Just leave them right on your grass, where they work like a FREE source of fertilizer. You also won't have to struggle with bagging and dumping those grass clippings anymore. 
Consider compost. Dead limbs, grass clippings, pulled weeds – oh my! Composting is the best way to dispose of unwanted plant scraps because the byproduct is an eco-friendly source of nutrients for your soil. It will also decrease your contributions to local landfills. Yard waste should never go in your curbside recycling container, but may be accepted for composting at a drop-off center in your community. Find out at www.askhrgreen.org/recycling-information-by-locality/
Mulch your beds. Mulch gives any flowerbed a uniform, finished look. But did you know that it's also eco-friendly? Mulch helps retain moisture (meaning less watering) and also controls erosion, weeds and soil temperatures.
Water wisely. Grassy lawns only need about one inch of rain per week to thrive. Use a rain gauge to track rainfall and determine if watering is necessary. When watering, do so early in the morning and be sure to adjust sprinklers so they are watering plants, not pavement.
Put rain to work. The roof of your home puts off lots of rain, but you don't have to let it go down the (storm) drain. Installing a rain barrel for less than $100 will allow you to store rainwater for all your outdoor watering needs, while reducing your property's contribution to local water quality.
We want to know – how do you work smarter, not harder in your yard?  Share your gardening tips with us now!