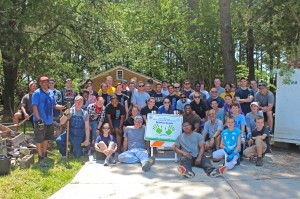 The Virginia Beach Clean Community Commission (VBCCC), with support from the City of Virginia Beach Public Works Waste Management, completed its third Helping Hands project of the season on Saturday, June 11. The Helping Hands Program freely provides one-time assistance to residents who are physically and financially unable to perform outside yard maintenance themselves.
VBCCC Chair (and askHRgreen.org team member) Dan Baxter and Vice-Chair Larry Banks worked with 50 volunteers including numerous military groups on the yard beautification. They mowed the lawn, trimmed branches, and removed yard debris and miscellaneous items for a resident in need. Even the Virginia Beach police officer who nominated the resident for Helping Hands brought out his family to help with the cleanup efforts. This incredible outpouring of community volunteers transformed the yard in just three hours. They filled a large yard debris container and over 70 bags of yard waste. This effort also amassed an impressive pile of bulky items for pick up.
Each year, volunteer groups are needed to assist with Helping Hands projects during the spring, summer, and fall seasons. Talent or experience in landscaping or gardening is not required but appreciated. Most of these projects require a time commitment of less than four hours and can typically be done on a Saturday morning. If interested in lending a hand and helping a neighbor, call 385-3855 or visit www.VBgov.com/VBCCC.
Blog contributed by Craig Simmons, Recycling Administrative Technician for the City of Virginia Beach.