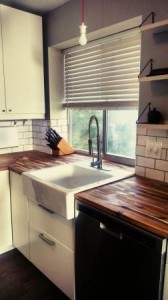 I'm in love with my new sink.  After 3 months of DIY renovations we finally moved into our new house and I've got to say, it's one of my favorite things amidst the mountains of boxes.  I'm trying to take it one box at a time but I may lose my mind if I don't get everything unpacked soon.  It's fitting that Thanksgiving is almost here because as painful as the moving process is, there is plenty that I have to be thankful for.  For starters, I now have three toilets.  Three.  There are nearly 2.5 billion people in this world that don't even have one toilet.  I also have conveniences like clean water at the turn of a tap and light at the flip of a switch – both very easy to take for granted until you don't have them, and a lot of people don't have them.   I'm even thankful for days when I think I'll lose my mind because I wouldn't have nearly as many of them without my two healthy, crazy, screaming kids that light up my world, and my two shedding, slobbering, barking dogs that think I'm the best thing that has ever happened to them.
Another one that tops the list is my handy husband, who managed to turn all of my Pinterest-inspired ideas into reality and create a place that already feels like home (love you, hubby).  The kitchen was our biggest project and we went with modern white cabinets, butcher block countertops, and a big farmhouse-style apron-front sink.  Just look at that sink!  I know, I know, I need clean water, I don't need a cool sink that it drips into, but we all have our weaknesses and thanks to IKEA this sink was within budget.  It almost makes me happy about doing dishes.  Almost.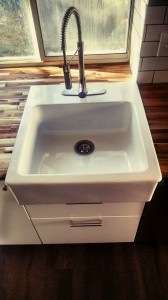 The coolest part about this sink is something you can't see in the photo – no garbage disposal.  The house had one but when the old kitchen came out that sucker was not going back in.  How could I do that to such a magnificent sink?!  It's just too pretty.  Going disposal-free not only frees up storage space in my sink cabinet, it protects my pipes and the environment.  Garbage disposals grind food into tiny particles so they can get down the initial part of your home's plumbing, but the sewer system was not designed to deal with your leftovers or fats, oils, and grease (called FOG) that are incorrectly disposed of down a drain.  Food particles stick to FOG, build up on pipe walls and can eventually cause clogs and sewer backups in your plumbing or in larger sewer pipes down the line that cause spills into our communities.   Instead of relying on a disposal, I scrape my leftovers in the trash and keep a strainer in the sink drain to catch any food particles that attempt to escape when I'm washing up.  I don't have to worry about sewage making an appearance in my fabulous sink and I feel good about protecting the environment from sewage spills.  Win.
You can do it too – ditch the disposal this holiday season!  If you can't bring yourself to remove your disposal, at least pretend it's not there and keep a strainer in your sink at all times.  It's OK to take baby steps.  Your pipes are already thanking you.  But before you go dig out that sink strainer, here is one more photo of my fabulous sink for your viewing pleasure.