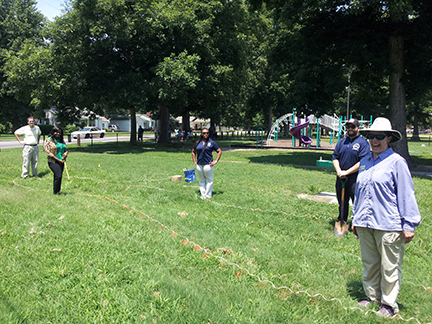 This summer, a team of 22 Norfolk Emerging Leader executive interns (NEL) have the opportunity to build an environmental legacy for the City of Norfolk through a civic engagement project. The interns will construct the Regain (Relief through Environmental Gardening And Innovative Networking) Rain Garden at Ingleside Recreation Center in Norfolk. An educational outreach component of this project will provide a model for Norfolk residents to use as a guideline for building and maintaining rain gardens. There will be a Grand Opening Ceremony for the Regain Rain Garden at Ingleside Recreation Center on August 9th from 11:00a.m.-1:30p.m. The ceremony will consist of a presentation of the Regain project, a ribbon cutting ceremony, and hands-on learning opportunities for children.
Upon completion of the Regain project, Norfolk citizens will have access to a rain garden website which will include educational teaching materials and a basic model for replicating this project.
"We hope to raise awareness about environmental stewardship; which is something that should be a priority for everyone because we all want to live, work and play in a safe and clean environment, "said NEL intern, Marissa Walker.
Norfolk's executive interns chose this civic engagement project topic with the city's goals towards increasing lifelong learning opportunities and creating an environmentally conscious city in mind. It is their hope that others will be encouraged to construct a rain garden in their neighborhood and use the Regain program to further their efforts. For many of the interns, this is a chance to give back to their community and make a lasting impression on the citizens of Norfolk.
If you would like to follow the progress of the Norfolk Emerging Leader interns, check back in two weeks for updates.
This blog post was submitted by Zio Ziegler, summer intern with the Norfolk Public Works Environmental Storm Water Division.