It's raining, it's pouring, and the Regain Rain Garden is absorbing.
The City of Norfolk's Executive Interns have completed the construction of the Regain Rain Garden at Ingleside Recreation Center.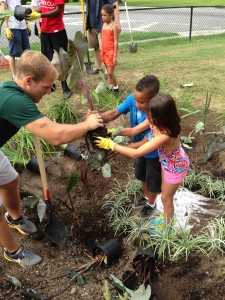 So, what exactly is a rain garden? A rain garden is a type of garden that collects rainwater and stormwater runoff. The main purpose of a rain garden is to improve stormwater quality, reduce runoff and trap pollutants before they enter the stormwater system. A rain garden is designed to act as a bio-retention basin. The plants and soil trap the pollutants and allow the rainwater to slowly drain into the stormwater system. They also, alleviate stressed storm drains that would otherwise overflow and cause flooding.
When designing a rain garden, there are many factors one must consider. It is important to select an area that is sloped in a way that will attract rainwater and runoff. Also, it is important to use native plants that have adapted to the local climate. You must also consider moisture zones when constructing the rain garden; plants that require significant amounts of moisture should be planted in the wet zone and plants that require less moisture should be planted in the dry zone. Amending the soil is another consideration during construction; you may need to add sand, compost and other materials if necessary. When designing a rain garden it is important to choose a design that best fits the needs of your yard. And remember, when planting your garden; use your green thumbs, so you will be ready when the rainwater comes.
Here are some helpful steps you can follow when planting your rain garden:
• Prepare the site
• Excavate
• Amend the soil
• Construct the berm
• Plant native plants
• Mulch
• Water the plants when necessary
A rain garden is just one example of providing a solution for nuisance flooding and water quality in the Hampton Roads.
This blog post was submitted by Diana Cheatham, Norfolk Emerging Leader intern.