In an effort to better prevent litter, Keep Norfolk Beautiful (KNB) is implementing the Litter Enforcement Awareness Month (LEAM) initiative throughout April 2014. The initiative is embedded in KNB's annual Great American Cleanup Program, and has shown successful throughout Northern Virginia, D.C. and Maryland for four years.  What's the goal? Glad you asked! The initiative is poised to educate the public about current laws on littering, solid waste accumulation and illegal dumping, while also tracking the violations and sharing outcomes with Norfolk's community.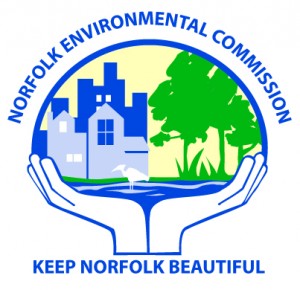 Did you know that excessive litter is not just an eyesore; it also contributes to poor aesthetics for your neighborhood, a decrease in community pride, a decline in property value, and contributes to nuisance flooding due to clogged storm drains. Additionally, littering is illegal, covered under Chapter 14.5, Environmental Offenses of the Norfolk City code.  Any person violating any provision of this chapter shall be guilty of a class one misdemeanor, which carries a maximum penalty of not more than $2,500 per day and/or up to one year in jail.
As KNB serves to create a culture of environmental sustainability in Norfolk, we encourage you to volunteer with us! Your assistance is needed as we strive toward cleaner, safer and healthier neighborhoods in Norfolk. We welcome your ideas, as litter prevention affects Norfolk's economic, environmental and social well-being.
To conclude this year's LEAM initiative, KNB will host Keep Norfolk Beautiful Day, Saturday, May 3rd. Individuals and groups are invited to conduct litter cleanups throughout Norfolk.   Additionally, residents are encouraged to take their unwanted household goods, recyclable items, and electronics to KNB's e-cycling event at 1176 Pineridge Road . You and your neighborhood should join us! Visit us online for more details about Keep Norfolk Beautiful Day.
And for other Great American Cleanup events going on throughout Hampton Roads, check out the event listing on askHRgreen.org.
Guest blog post submitted by Lisa Renee Jennings, Clean Community Coordinator with Keep Norfolk Beautiful.