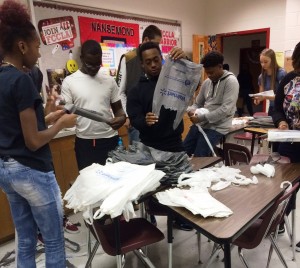 The Family, Career, Community Leaders of America (FCCLA) at Nansemond River High School are extremely busy this fall producing sleeping mats for the homeless. Under the guidance of their teacher Sally Karadeema, this creative group of students has been busy turning used plastic bags into Plarn. "Plarn" is just like yarn except it is made from plastic bags cut in to strips, tied together and rolled into a ball….just like a ball of yarn. In addition, the group has been learning a new craft, crocheting. By combining these new skills, the FCCLA members plan to turn their "Plarn" into beautiful mats for the homeless. Although the group is still deciding which homeless organization to donate to, their current focus is to collect plastic bags, make Plarn and perfect the skills to produce the mats.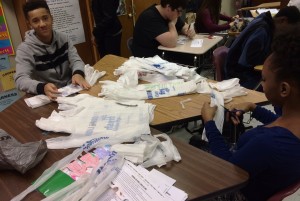 FCCLA Advisor Ms. Karadeema started the project to help teach her students resource management, an important skill which will serve them well in their futures. Ms. Karadeema says "making mats for the homeless was also a great way to teach about recycling, learn a new craft and help out some folks in the process. I am extremely happy with how well the group has applied themselves; they have adopted a professional approach, organizing bag collection and working together to produce the balls of Plarn. I am very excited to see the mats take shape." To help the project along, Ms. Karadeema has reached out to "Keep Suffolk Beautiful" who is hosting a plastic bag recycling drive at the two main libraries on November 14 in celebration of America Recycles Day. The spokesperson for Keep Suffolk Beautiful says, "This young group of leaders are more than welcome to all the plastic bags they need and we are very happy to see them being recycled locally and put to good use. We just hope the public will support us and the group by bringing us their unwanted bags."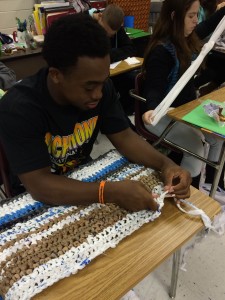 The plastic bag recycling drive will be held from 10am to 2pm on Saturday, November 14 at both the Morgan Memorial and North Suffolk Libraries. In addition, you can also bring old cell phones, ink cartridges and household batteries to be recycled. There will also be information about recycling, giveaways and story time for young children. For more information about the plastic bag recycling drive, please contact the City of Suffolk's Litter Control Office at 514 7604 or littercontrol@suffolkva.us.
Blog post contributed by Wayne Jones, Litter Control Coordinator with the City of Suffolk.