Happy Veterans Day! As we honor those who have served in our armed forces today, we here at askHRgreen.org invite you to celebrate our veterans the green way – with Cell Phones for Soldiers – a non-profit organization dedicated to providing cost-free communication services to active duty military members and veterans.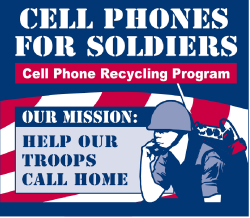 Since 2004, Cell Phones for Soldiers has provided troops with more than 2.5 million prepaid calling cards (equating to 181 million minutes of free talk time) and recycled more than 10.8 million cell phones, reducing the impact on landfills.
We encourage you to donate your old cell phones to this wonderful cause in support of the men and women serving in all branches of the military. In fact, askHRgreen.org will be collecting cell phones for the program at our upcoming electronics recycling & shredding events, Nov. 15 in Portsmouth at the Lowe's on Victory Blvd and Nov. 16 at the York County Sports Complex. We hope to see you there!