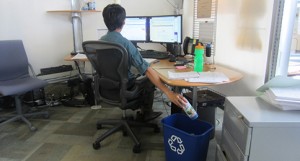 Did you know that as much as 85% of waste generated in offices is recyclable? Recycling is the norm in city and county offices across Hampton Roads. Please consider following suit and starting a recycling program in your business or office. By recycling we reduce our environmental impact on the community, create lower cost raw materials for manufacturing and increase the life of existing landfills.
The City of Newport News is constantly researching new handling and recycling methods for our city and the region so that we can all recycle more, trash less.
Here's some quick tips for proper waste disposal at the office:
Place recycling bins in each office, near each printer/copier and in each conference room.
Recycle your paper, aluminum cans, plastic/glass bottles and cardboard. Additional items may be accepted depending on your recycling provider.
Toss into the trash all dirty takeout containers and cups, paper towels/napkins/tissues, and waxed cardboard milk or juice cartons.
Set up a plastic film recycling station in your break room where coworkers can bring plastic grocery bags, newspaper bags, and clean Ziplock bags for recycling. When the station is full, simply drop off the plastic film at the plastic bag return at the nearest grocery or big box store.
Ditch bottled water and use tap.
Scrape food scraps into the trash, not the sink, when you clean up your meal.
This is a guest post by Dan Baxter, Business Recycling Coordinator, with the City of Newport News Public Works, Solid Waste Resource Recovery Unit.