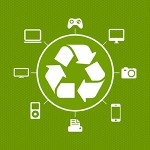 Give your unwanted electronics and documents a proper sendoff at one of askHRgreen.org's events! Both events are open to all Hampton Roads' residents and businesses.
November 12th from 10 a.m. t0 2 p.m. at The Home Depot, 325 Chatham Drive, Newport News.
November 17th from 10 a.m. to 2 p.m. at Mt. Trashmore Park (Lot P2 on map), Virginia Beach.
The following  will be accepted at both events:
Cell phones | Circuit boards | Computers/CPUs | Computer monitors | Computer peripherals (mouse, speakers, etc.) | Connectors, cables and wiring | Consumer electronics (DVD players, alarm clocks, etc.) | Documents | Fax machines | Home and office phones | Keyboards | Printers | Stereos | Telephone equipment | Televisions | VCRs.
The following items will not be accepted:
Any unit with sludge or liquids | Cassette tapes | Household hazardous waste | Large appliances (refrigerators, stoves, washer dryers, etc.) | Smoke alarms and detectors | VHS tapes.
Help us spread the word about these events! Download the Peninsula flyer and the Southside flyer.

Wondering why it's important to recycle your electronics? Electronics contain hazardous waste that can be released into the air, soil and water and cause health and environmental risks. Taking unwanted electronics to a responsible recycler ensures people and the environment stay healthy.

askHRgreen.org is proud to partner with Synergy Recycling for these events. Synergy Recycling is a certified electronics recycler under R2/RIOS, and holds 3rd party certifications for quality (ISO 9001), environmental management (ISO 14001) and employee health and safety (OHSAS 18001). Here in Hampton Roads, Synergy Recycling has partnered with The Arc of the Virginia Peninsula. The Arc launched its electronics recycling program in 2002, and its team disassembles a wide array of equipment collected throughout the community.  The Arc and Synergy's partnership offers a certified process for disposing of electronics responsibly while creating jobs for people with disabilities.
Secure document shredding will be provided by Stealth Shredding.