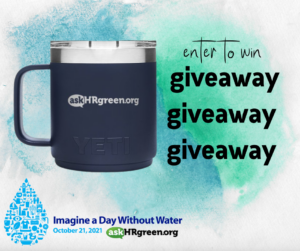 Enter to win Yeti coffee mugs for Imagine a Day Without Water! 
Some say coffee is life. While it might sound like an extreme exaggeration, they kind of have a point. Hear me out…
That most magical caffeinated brew so many depend on for their morning vigor is 99 percent water. And water IS life! Humans are mostly water and we certainly can't live without it! Water is the way we stay healthy and hydrated. It helps us stay clean playing a vital role in the fight against COVID-19. Water puts out fires, flushes toilets, fuels the local economy, and is the not-so-secret ingredient for practically every beloved beverage or meal. Imagine all the things you love about water, then imagine a day without it.
There's a direct connection between the quality of life we enjoy in Hampton Roads and tap water. While water falls from the sky and flows through our rivers, it takes complex systems and hundreds of local water workers to get safe drinking water to our taps. Water treatment plants, water quality labs, pipes, pumps, and trained employees who work 24/7 every day of the year, even through global pandemics, keep everything flowing. Water powers the world around us in so many ways and here in Hampton Roads, we are blessed with a safe and steady supply of water. All we have to do is turn on the tap!
To raise awareness about the value of our most precious resource, water, we're giving away a pair of Yeti coffee mugs for Imagine a Day Without Water 2021.
Perfect for hot or cold beverages and even soup, chili, or oatmeal (which are all made with – you guessed it – water!), these popular double-walled mugs are dishwasher safe and ruggedly durable.
To enter to win, simply sign up for the askHRgreen.org newsletter using this form through October 21, 2021
. Delivered straight to your inbox six times per year, the askHRgreen e-newsletter will keep you up-to-date on regional happenings, seasonal tips, and askHRgreen.org community programs. Existing e-newsletter subscribers are welcome to enter the giveaway by confirming their subscription on the same form.