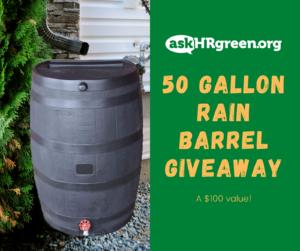 Everyone knows the old saying: April showers bring May flowers. With lots of rain comes ample opportunities to capture and reuse some of the water running off the hard surfaces of your home. askHRgreen.org will be gifting four lucky winners with a 50 gallon rain barrel made of recycled plastic during the month of April so they can do just this. Interested homeowners can enter to win by signing up for the askHRgreen.org newsletter using this form. Winners will be drawn each Friday in April starting April 10th.
Affordable and easy to maintain, rain barrels are a wonderful way to protect the environment while saving money on your monthly water bill. Rain barrels capture rainfall from your roof and prevent this "free" source of water from carrying pollutants from your yard or driveway into storm drains and out to local waterways. This newly collected rainwater then becomes an alternative to using tap water from your local water utility for outdoor uses such as watering plants and grass, washing the car, or rinsing your hands. During, spring and summer up to 75 percent of your household water bill may be the result of watering your lawn and garden. Using your rain barrel for watering can help keep your water bill lower. Just know captured rainwater is not considered safe to for human consumption.
While Hampton Roads is blessed with an abundance of water, it should never be taken for granted. Tap water powers our economy, prevents the spread of disease and illness, puts out fires, and even provides refreshment whether in the form of a mug of coffee or a tall glass of lemonade. Locally our water supply is abundant, but there are many areas across the country that suffer under severe water restrictions each summer due to a lack of clean water.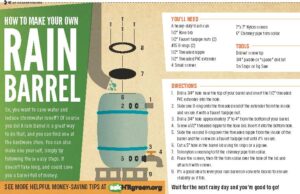 Do your part to protect local water quality and conserve water by adding a rain barrel (or a series of rain barrels) to your home this spring. If you aren't one of our lucky winners of a free 50 gallon rain barrel, simply order one of many pre-made options available online for about $100 or follow these easy DIY steps to convert a heavy duty trash can into a rain barrel for about about $45. You should recoup your expenses in one season of watering!