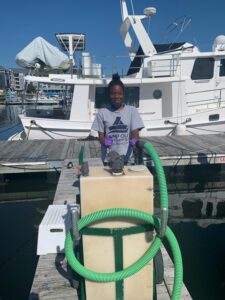 My name is Diamond Rice, and I am a senior at Old Dominion University studying to get my Bachelor of Science in Public Health. This summer I am working as a Marina Intern at HRSD in the Hampton Roads Boater Education and Pump Out Program. My duties are to provide free pump outs of marine sanitation devices (MSDs) to the boating community and to educate boaters and the public on the importance of properly disposing of vessel sewage and the negative impacts of improper disposal.
Nitrogen and phosphorus from vessel sewage feeds algae. When algae die, the decomposition causes a depletion in oxygen, known as algal blooms. In coastal areas, algal blooms can cause shellfish, fish, and other aquatic species to die. Human urine and feces can contain diseases such as E. coli, viruses, and bacteria, which can be harmful to swimmers or people that fish for and consume shellfish. Chemicals like chlorine and ammonia  used to clean on-board toilets are hazardous for marine life because it will pollute the water and affect aquatic species. Enzymes are better to use because they help with the smell, give the sewage a better flow, and is environmentally-friendly. They are also nontoxic and help to emulsify waste to make pumping out easier.
In 1992, the Clean Vessel Act was passed in order to reduce pollution from vessel sewage discharge. Shortly after its creation, the Pump Out Program was established in 1996, and it covers all of Hampton Roads. The Pump Out Program's mission is to promote proper disposal of sewage from boat holding tanks in order to protect public health and the waterways of Hampton Roads.
Boaters can call (757) 460-4253 or go to https://www.hrsd.com/boater-ed and click "request free pump out" to schedule an appointment. Our summer schedule is from Memorial Day to Labor Day. The request form also gives resources that can be used for pump out issues. The form is straight forward and shouldn't take more than 10 minutes to complete.
The Pump Out Program has helped to protect the environment and decrease pollution through education and free pump out services. From 2015 to 2019, there has been a steady increase in pump outs each year. 2019 had 2,624 pump outs, the highest number since the start of the program, putting the total gallons pumped since 2015 at 157,705 gallons. Our goal is to prevent the dumping of sewage from boat holding tanks into waterways, and I think the statistics are showing the positive impact the Pump Out Program has had on preventing that from happening.
Blog contributed by Diamond Rice, Marina Intern at HRSD.