Kermit the Frog says, "It's not easy being green." Oh, but it is! Most of us make New Year's resolutions, so here are ten easy things you can do in the New Year to be green – and to save some green in your wallet, too.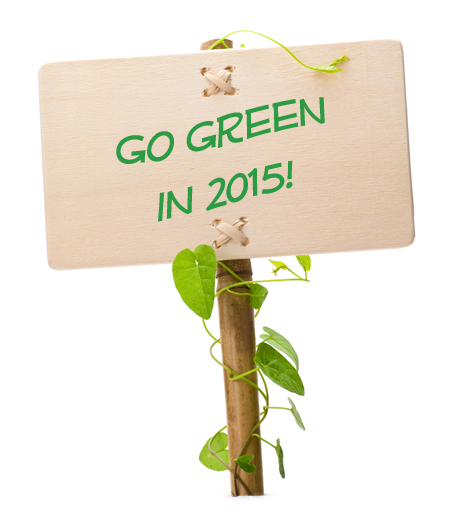 1. Replace one incandescent light bulb with a compact fluorescent light (CFL) or LED bulb. You will save money over the life of the bulb and reduce the amount of pollutants generated by electrical plants. Find out if you qualify for any of Dominion Virginia Power's Energy Conservation Programs.
2. Install a programmable thermostat. They are reasonably priced, easy to install, and can save big bucks if you turn your thermostat down by 3 degrees during the day while at work or at night while you are sleeping.
3. Know your grass. Different grass varieties need different care. Soil testing is always the first step to a healthy lawn because it will help you identify whether or not your lawn needs fertilizer. If your soil test reveals that you do need fertilizer, Fescue lawns thrive from autumn fertilizer applications while Zoyzia and St. Augustine lawns do better with early summer fertilizing.
4. Convert part of your lawn to a shrub or flower bed. It will reduce your time mowing the lawn this summer, serve as a home for mulched leaves in the fall and reduce the amount of rainwater that runs off your property all year long.
5. Plant a tree. It's so easy – and full of benefits! Trees help improve water quality, conserve energy, reduce air pollution, enhance your property values, and provide wildlife habitat.
6. Turn off the water while brushing your teeth and soaping up your hands. Bathroom faucets account for about 16 percent of the water use in most households. Showerheads deliver almost 20 percent of your indoor water use.  Replacing an old showerhead with a new low-flow, high pressure model is easy and will save on both water and energy costs. Check out more ways to use water wisely!
7. Install a rain barrel. Rain barrels catch the water from your gutters and store it for all your outdoor watering needs. You can purchase one from many garden supply centers or easily build one yourself.
8. Scoop the poop when walking your dog. In your yard, train your dog to use one particular area so you can clean up and throw your dog's mess in the trash.
9. Don't pour grease or food scraps down the drain. Pour grease into a can and refrigerate or freeze before putting it in the trash, and wipe off frying pans and greasy plates with a paper towel before washing. Check out more information on putting your drains on a diet!
10. Most of all, get outside (and get the kids outside) and enjoy the many natural amenities that this region has to offer!
Happy New Year!
Blog post contributed by Karen Mayne. Karen is a biologist retired from the U.S. Fish and Wildlife Service who resides in Norfolk and enjoys writing about environmental issues.