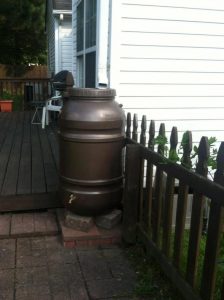 Yesterday Virginia entered Phase III of reopening after COVID-19 cancelled nearly all public activities this spring. Included in the long list of cancellations were our rain barrel workshops originally planned for April 2020. With easing restrictions on public interaction, we are thrilled to offer Hampton Roads residents three opportunities to make their own rain barrels for the low cost of just $20. Many of our followers are avid gardeners, but we have been excited to watch as interest in gardening exploded during the COVID-19 shutdown. With movie theaters, shopping, and gyms closed, many looked to gardening as a therapeutic (and sometimes delicious) way to pass the stay at home hours. Many new gardens were planted and as dry summer weather begins to arrive, outdoor water usage will soar to maintain these newly planted gardens.
Rain barrels are one great way to be a water steward. Most people think about the water conservation benefits of using a rain barrel though there are other benefits. Rain barrels reduce stormwater runoff which is a major source of pollution for local waterways including the Chesapeake Bay. When rainwater flows over our yard, it picks up dirt, excess fertilizer, lawn chemicals, and even pet waste along the way. All these unwanted pollutants get washed into our local waterways and cause harm to the marine habitat. When you install your rain barrel, you reduce the flow of stormwater entering local waterways AND create a free source of water for all your outdoor needs. It's really a win-win situation.
We hope residents will take advantage of this limited time opportunity to get a low-cost rain barrel and become a water steward! Got questions? Let us know at hrgreen@hrpdcva.gov.
Ha

mpton – In-person Workshops

Saturday, July 11 at 9:00 am – Workshop Full

Saturday, July 11 at 12:00 pm – Workshop Full

Sandy Bottom Nature Park

1255 Big Bethel Road, Hampton

Suffolk – Take & Make Kit Pickup 

Monday, July 27 to Friday, July 31 – Workshop Full

Curbside supply pickup by appointment only (9 am to 3 pm)

Suffolk Public Works

866 Carolina Road, Suffolk
**Download the event flyer to to share with a friend, coworker, or neighbor! Due to the nature of the workshop and social distancing requirements, participation is limited to one adult participant per registration. One registration per household, please. Fees are due at the time of registration through PayPal. Cash and check will not be accepted.
How it works.Those interested in a live workshop experience have the option of attending two workshops held in Hampton on July 11. Each session will be capped at eight participants and social distancing measures will be in place. Masks will be required and you are encouraged to bring your own tools. Experts will be on hand to assist in the assembly of your rain barrel and you will leave with it the same day. For those who prefer a more contactless experience, rain barrel take and make kits will be available for curbside pickup, by appointment, in Suffolk during the week of July 27-31. A representative with the City of Suffolk will coordinate a time between 9 am and 3 pm for you to pickup a barrel with pre-drilled holes, assembly kit, and instruction guide. For those selecting this contactless option, you will assemble the rain barrel at your own home and must provide waterproof sealant for the fittings.
Partners. These workshops are held in partnership with askHRgreen.org, the City of Hampton, the City of Suffolk and the Chesapeake Bay Restoration Fund. A portion of this workshop was funded by a Chesapeake Bay Restoration Fund grant, allowing us to offer rain barrels at the low price of $20 per barrel. You can support restoration activities in Virginia like this by purchasing a Chesapeake Bay license plate.