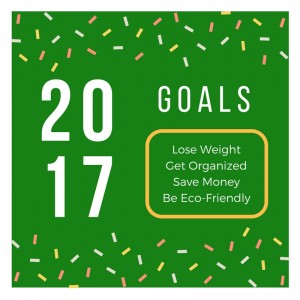 Each year we all make a bunch of promises to ourselves at the turn of the new year. We promise to be healthier, start saving money, live life to the fullest and more. Unfortunately, reducing our collective environmental impact hasn't yet made it to the top of the New Year's resolutions list. But that's OK. No, really, it's fine. Most people don't realize that going green is already a part of their goal for 2017…and that's where we come in! Here are some of the most popular resolutions for the new year and a few tips on how green living can help you meet your goal.
A New Year Means a New (Greener) You
1. Lose Weight. Who hasn't made this resolution? I'm pretty sure I make it every year! But losing weight and green living have a lot in common. For starters, if you're ditching fast food and other convenience foods then you're reducing the amount of waste you produce. In place of these wasteful (and unhealthy) convenience foods, you'll likely be packing a lunch in reusable containers and cooking at home more often. You'll also want to keep a refillable water bottle with you all the time to fill with tap water and keep your body hydrated. See, green living is so easy you didn't even realize you were already doing it!
2. Get Organized. This is probably one resolution I should make, but let's be honest, I'd never keep it! Being organized means getting rid of unnecessary clutter in your home. And that's the perfect time to refresh your knowledge on what's recyclable, what's reusable and what's plain old trash. Get out some boxes and label them: Keep, Donate, Recycle and Trash. Keep what you need, donate what can be reused, recycle everything your city/county will accept and make the landfill a last resort. And don't underestimate the power of donation. Even items like old bedsheets/towels, worn out shoes and dinosaur electronics  have value to the charities that are able to reuse or resell them. For example, old towels and linens seem like trash but are actually an important part of caring for animals at local animal shelters.
3. Spend Less, Save More. This one is easy. Green living  is all about saving money! Whether you are switching from bottled water to tap water, adjusting your thermostat up or down a couple degrees or starting a carpool, you'll be saving money and reducing your environmental impact. Saving more is almost always the same as using less and that's great for the environment as well as your wallet!
4. Learn Something New. Looking to add a new hobby to your life? Consider taking up composting, upcycling, refurbishment projects or gardening. You could even take on backyard chickens! Yes, there are plenty of other new skills to learn in 2017, but why not take on something that benefits you and your surrounding community?
5. Quit Smoking. Kicking the cigarette habit is a big deal and it's not easy. In return for your hard work, you'll receive multiple benefits. Non-smokers are healthier and have reduced risks for cancer and other health problems. Non-smokers are also known to litter less. Yep, that's right. Most smokers are guilty of flicking cigarette butts out the car window, onto the sidewalk or wherever they find themselves without a proper ash receptacle. In fact, cigarette butts are the most commonly littered item in Virginia and across the world. Your community and your local waterways will thank you for not smoking!
We wish you much success as you tackle a new (greener) you in 2017. Happy New Year from all of us at askHRgreen.org!